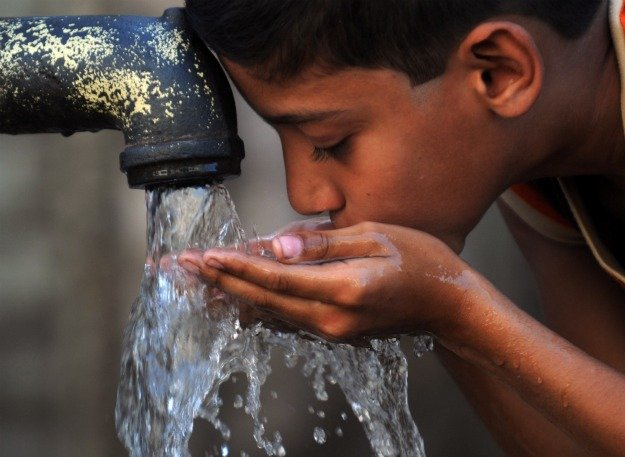 ---
KARACHI:
The dispute between Sindh and Indus River System Authority (IRSA) further deepened on Thursday when the latter decided to slash the water shares of provinces given the upcoming dry spell.
IRSA, which regulates water sources of the Indus River, and the Sindh government have been at loggerheads for years over water distribution.
The latest controversy emerged after the water regulatory body wrote to the Sindh irrigation department, informing of its decision to cut the water share owing to the river inflows overall reduction to a significant level.
IRSA Operation Director Mohammad Khalid Idrees Rana wrote in a letter addressed to the Sindh irrigation department, "I'm directed to state that river inflows at rim stations registered a peak of 641,010 cusecs on July 27. The inflows reduced to 298, 000 cusecs on August 8 i.e. is minus 115 percent.'' The letter added that the Tarbela Reservoir level was at 1,541ft while the level of Mangla stood at 1200.80, which may go below its minimum operating level because of the forecast of no significant rainfalls in coming days.
Read More: Saving water
"Sakardu temperature may range between 27 to 30 degree till August 13 and then further will decrease up to August 20. IRSA is trying to manage the situation by regulating the decreasing supplies to the optimum. It is decided to immediately switch to Para 2 water accord share determining the shares of the provinces, according to which the share of Punjab will be 117,600 cs, Sindh 123,400," the letter stated, asking the provincial government to adjust its systems accordingly.
'Equal losses unjustified'
The Sindh government, however, protested the matter. Responding to IRSA, the Sindh government demanded that losses be calculated reach wise.
"Sindh being the tail ender of the river suffers more water losses than others. So, applying the same losses to all Barrage canals is unjustified," said Sindh Minister Jam Khan Shoro, adding that his department has responded to IRSA and will protest against the decision at all forums. "Sindh is already suffering from severe water shortage as IRSA and other relevant authorities defy the 1991 Water Accord opening of the Taunsa-Panjnad link canal."
Referring to his department's letter he said, "Sindh has reservations on the calculation made by IRSA for determining the share of the provinces by applying equal losses to upper riparian and lower riparian provinces. He went on to say that Kotri Barrage is situated about 700 miles away from Chashma Barrage while Kalabagh Barrage and Taunsa Barrage are situated upstream, so the formula to reduce equal shares of all provinces will be an idea to impose on Sindh.
It may be mentioned here that there has been an acute water shortage in Sindh that has forced people to stage sit-ins and organise rallies demanding water for seasonal crops. At present the water level recorded at Guddu Barrage is 161,215 cusecs upstream, 122,394 cusecs downstream, at Sukkur Barrage it was recorded at 122,619 cusecs downstream and 122,610 cusecs upstream and at Kotri Barrage the water level was recorded at 127,825 cusecs upstream and 92,320 cusecs downstream.
According to officials, the medium level flows of Guddu Barrage in summer season remains at 397,089 cusecs upstream and 362,839 cusecs downstream whereas Sukkur Barrage the medium upstream flows of 364,630 cusecs and downstream flows of 303,625.
Published in The Express Tribune, August 13th, 2021.
COMMENTS
Comments are moderated and generally will be posted if they are on-topic and not abusive.
For more information, please see our Comments FAQ