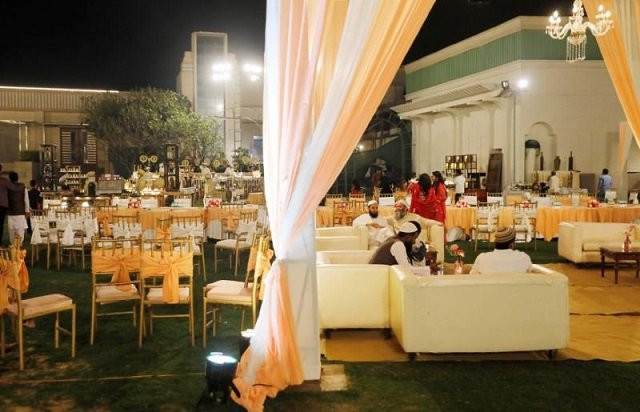 ---
At least one person was killed and another sustained injuries when unidentified assailants opened fire at the wedding ceremony of newly-designated Punjab minister Asad Khokar's son in Lahore on Friday.
Express News quoting sources reported that two people sustained injuries after two unidentified gunmen opened fire at the wedding ceremony of MPA Khokhar's son in DHA area of the provincial capital.
Both the injured were rushed to a nearby hospital but unfortunately brother of the designated minister succumbed to his injuries.
Punjab Chief Minister Usman Buzdar among other officials was also present at the ceremony.
"I have just spoken to the Chief Minister of Punjab. He is fine and reached his residence safely. The assailants came close to his vehicle and opened fire," Prime Minister Imran Khan's aide Shehbaz Gill said in a tweet.
ابھی وزیراعلی پنجاب سے بات ہوئی ہے۔ وہ خیریت سے ہیں۔ اور اپنی رہائش گاہ پر موجود ہیں۔ حملہ آوروں نے ان کی گاڑی کے بلکل قریب آ کر فائرنگ کی۔ وزیراعلی کی سیکورٹی نے حملہ آور کو قابو میں لے کر گرفتار کیا۔ بدقسمتی سے اسد کھوکھرصاحب کے بھائی اس حملے کے نتیجے میں جاں بحق ہو گئے ہیں۔

— Dr. Shahbaz GiLL (@SHABAZGIL) August 6, 2021
He added that the security officials have arrested the accused. "Unfortunately, Asad Khokhar's brother was killed in the attack," he added.
CM Buzdar has directed the Punjab police chief to submit a report of the firing incident and take action against the accused as per the law.
He also ordered an inquiry against the officials who were responsible for the security arrangements.
وزیراعلیٰ پنجاب کا لاہور میں نامزد صوبائی وزیر اسد کھوکھر کے بیٹے کی دعوت ولیمہ میں فائرنگ کے واقعہ پر نوٹس، فائرنگ اور سیکیورٹی انتظامات کےحوالےسے IG پولیس سےرپورٹ طلب

فائرنگ کرنےوالےملزم کو وزیراعلی کی سکیورٹی ٹیم نے موقع سےپکڑا
فائرنگ کا واقعہ وزیر اعلی کےنکلنے کےبعد پیش آیا

— Government of Punjab (@GovtofPunjabPK) August 6, 2021
In July last year, Khokhar had stepped down from the post of provincial minister for wildlife and fisheries.
In his handwritten resignation, Khokhar claimed that he could not continue his duties as provincial minister for personal and political reasons, but government sources had indicated that he had been asked to step down.
COMMENTS
Comments are moderated and generally will be posted if they are on-topic and not abusive.
For more information, please see our Comments FAQ