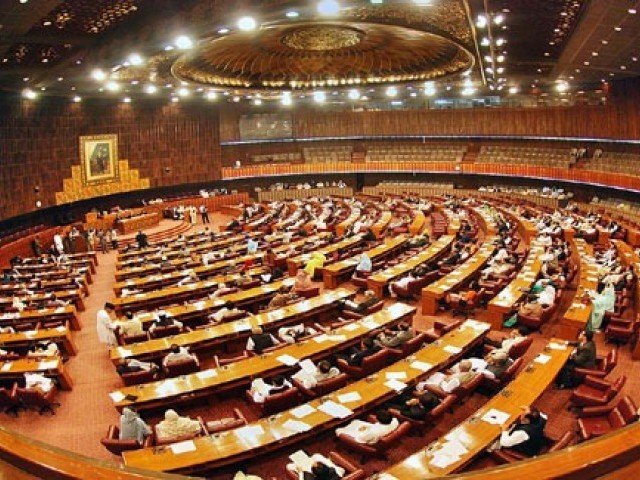 ---
ISLAMABAD:
The Senate Standing Committee on Law and Justice postponed its debate on a bill pertaining to Indian spy Kulbhushan Jadhav, following heated exchanges between Law Minister Farogh Naseem and committee member Musadik Malik of the Pakistan Muslim LeagueNawaz (PML-N).
The committee met with its chairman Barrister Ali Zafar in the chair.
During the meeting, opposition lawmakers criticised the law minister for introducing a bill that gave convicted Indian spy the right to appeal.
Barrister Ali Zafar said that the proposed bill was in fact an admission of error by the government. He told the law minister to make the law that applied to all.
However, Law Minister Forough Naseem asked him how the bill was against the Constitution. A heated exchange occurred between Malik and Naseem.
Read PPP will oppose Kulbhushan Jadhav bill: Bilawal
At one point, the law minister told the PML-N senator that he was deliberately asking the same question over and over again.
Malik rebuked the law minister that he was not the committee chairman to give any order.
The law minister replied that he was not the chairman of the committee but he was also not his [Malik's] servant.
He then told the committee members that they were turning the meeting into a media spectacle. Senator Azam Nazir Tarar commented that he could not understand why the government was so kind to Jadhav.
He pointed out that the Pakistani citizens, convicted by military courts, did not have the right to appeal but the bill was tabled to grant that right to Jadhav.
Naseem told the committee members that Jadhav was not being given the right of appeal.
He insited that the members should explain how the bill was unconstitutional.
He added that it appeared that the members had not read the bill. Later, the debate was postponed till next meeting.
COMMENTS
Comments are moderated and generally will be posted if they are on-topic and not abusive.
For more information, please see our Comments FAQ