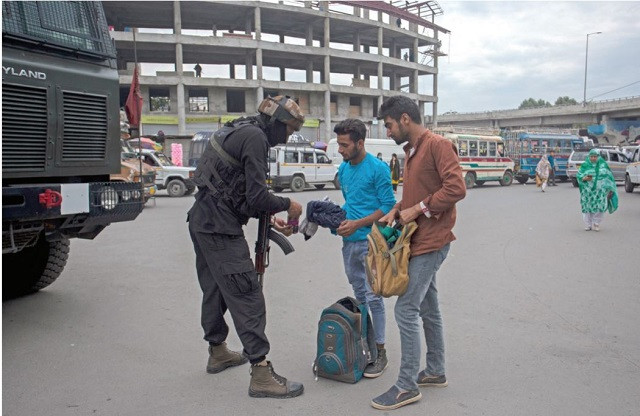 ---
ISLAMABAD:
President Dr Arif Alvi has said that Pakistan stood solidly by the Kashmiris in their just struggle to the right of self-determination and would continue to highlight the Jammu and Kashmir dispute at the international level.
"Our ultimate objective remains the peaceful resolution of the Jammu and Kashmir dispute as per relevant United Nations Security Council resolutions and the wishes of the Kashmiris people," he said in his message on the Youm-eIstehsal (August 5) being observed on Thursday.
On August 5, 2019, he said, India in violation of the international law and norms undertook illegal and unilateral actions in the Indian Illegally Occupied Jammu and Kashmir (IIOJK) to further perpetuate its occupation.
Through its illegal actions, the president added, India tried to change the demographic structure of the occupied territory and "eliminate the distinct identity" of the Kashmiris people in violation of the UN Charter and international laws, including the 4th Geneva Convention.
The Indian actions were also aimed at foreclosing the exercise of the right to self-determination of the Kashmiri people promised to them in numerous resolutions of the UN Security Council, he said.
"Through continuous illegal and unilateral steps, the Indian government has created an environment of fear and chaos in IIOJK," he added.
President Alvi said the people of IIOJK were being subjected to collective punishment by the Indian occupation forces, which had turned the territory into the largest militarized zone in the world.
Meanwhile, Prime Minister Imran Khan also expressed the country's commitment to the Kashmir cause and urged the international community to "hold India accountable for its crimes" against the Kashmiri people.
"We will continue to extend all possible assistance to Kashmiris till the realization of their inalienable right to self-determination and a just resolution of the Jammu and Kashmir dispute, in accordance with the relevant UNSC resolutions and the wishes of the Kashmiri people," he said in his message on Youm-e-Istehsal.
The prime minister said: "Today marks two years since India's illegal and unilateral actions of August 5, 2019 in IIOJK."
These actions, he said, were followed by unprecedented military siege, and restrictions on fundamental rights and freedoms of the Kashmiri people to perpetuate Indian occupation in the occupied territory. "
Yet, India has failed to break the will of Kashmiri people," he added.
PM Imran pointed out that the Kashmiris faced unabated extra-judicial killings, custodial tortures and deaths, arbitrary detentions, burning and looting of houses to inflict collective punishment, and other worst forms of human rights abuses.
COMMENTS
Comments are moderated and generally will be posted if they are on-topic and not abusive.
For more information, please see our Comments FAQ