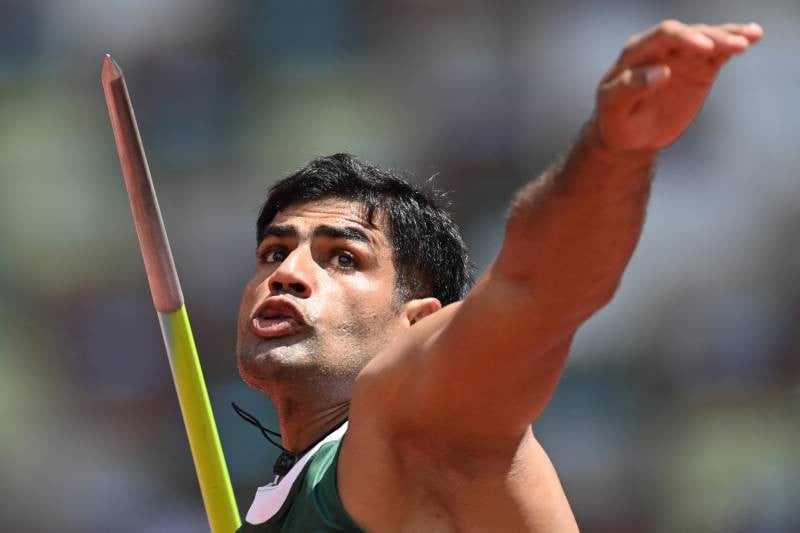 ---
KARACHI:
Pakistan's Asian Games bronze medallist Arshad Nadeem became the first athlete from the country to book his place in the Olympics final as he topped Group B of the javelin throw event with a 85.16m throw.
The 24-year-old is among the top 12 javelin throwers now who will compete for the medals on Saturday, August 7 in the final.
The athletes were to throw at least 83.50m to advance into the final or finish among top 12 competitors over all.
Germany's Johannes Vetter is being touted as the favourite to win gold, but Arshad had predicted a close competition.
Arshad's friend and Indian javelin thrower Neeraj Chopra topped Group A in the event with a throw of 86.65m, making it a South Asian dominated event, a rare case at the Olympics athletics program.
Arshad is the last athlete to be performing for Pakistan at the Olympics in Tokyo, hoping to get a medal and break the country's 29-year-old medal-drought in the Olympics. Pakistan took their last medal in Olympics in the 1992 Barcelona Games.
"I am training in Tokyo too, in the morning and afternoon. I know there is going to be tough competition and everyone wants to be the best," Arshad had told The Express Tribune as he shared that he is placed in Group B of the javelin throw qualification round that will take place on August 4 and then the final on August 7.
"My goal is to get the medal, my goal is to get into the final. The Group B is looking tough, every thrower wants only one thing and that is to get through. I want to return home with my head held high. I want to make Pakistan proud. I just need to do the best I am capable of here in Tokyo."
Arshad is also the first Pakistani to directly qualify for the Olympics. He did so through the 2019 South Asian Games in Nepal.
'A great moment to rejoice'
Japanese Ambassador in Pakistan Matsuda Kuninori also extended his heartfelt congratulations to Arshad for qualifying for the final of men's javelin throw competition at the Tokyo Olympics with a superb throw of 85.16m.
"I am truly delighted to see Pakistan's success in Tokyo Olympics. My sincere congratulations to Arshad Nadeem, his family and the people of Pakistan for achieving this amazing success at the Tokyo Olympics and reaching to the medal round.
"This is a great moment for all of you to rejoice. I wish him good luck and success for the final", said the ambassador in his congratulatory message.
COMMENTS
Comments are moderated and generally will be posted if they are on-topic and not abusive.
For more information, please see our Comments FAQ