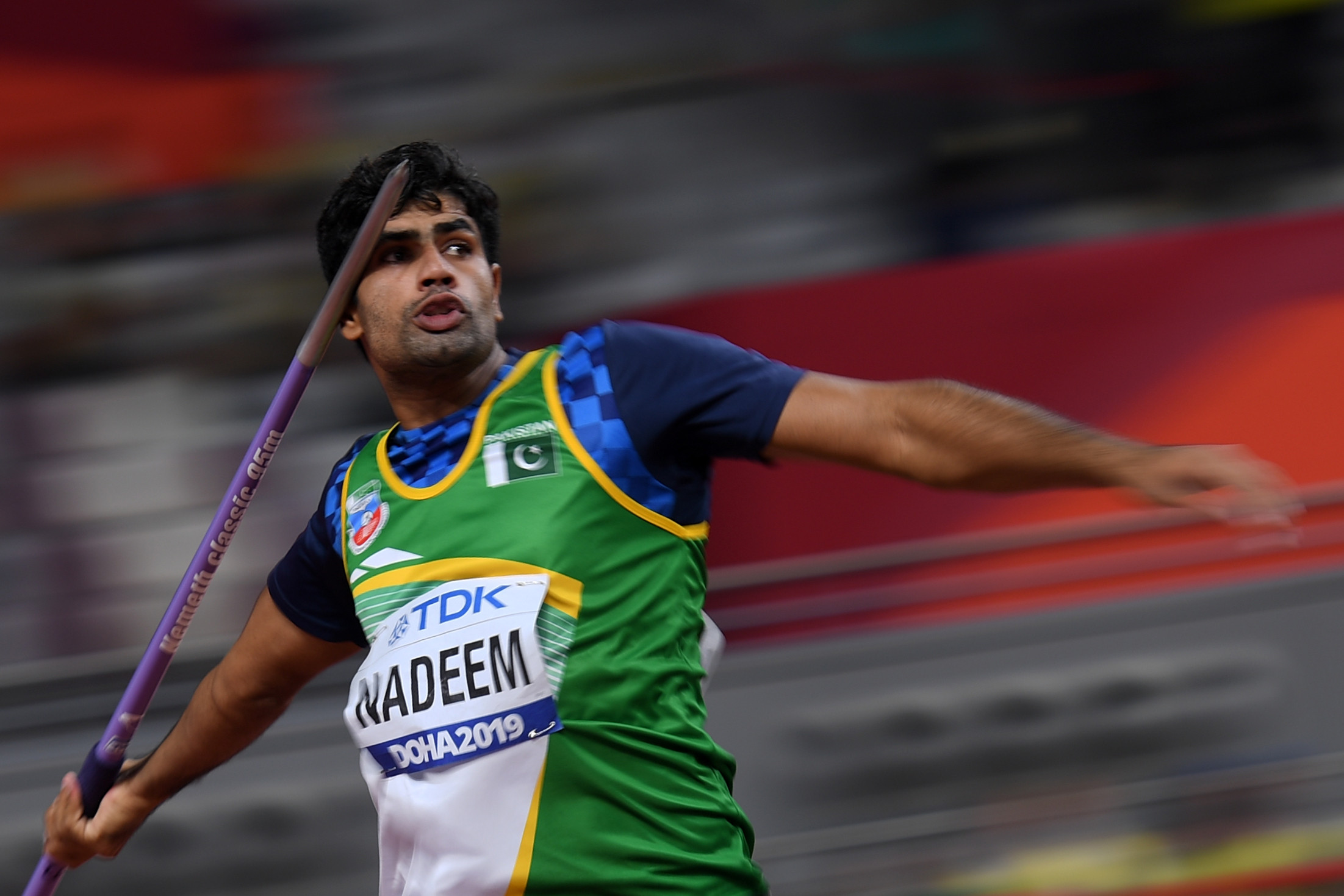 ---
KARACHI:
"It is all going to be about the mental strength. I know this because I have gotten back on my feet after getting Covid-19 two months ago. It is about the mind more now at this point," Pakistan's most praise-worthy athlete at the moment, javelin thrower Arshad Nadeem expresses his truth. He has this realisation on his side that he is the only track and field athlete in the history of the country to directly qualify for the Olympics.
The 24-year-old from Mian Chunnu, Khanewal has been nothing short of a wonder kid as his training and his preparation have all taken place in Pakistan mostly, while the international athletes that he will be rubbing shoulders against at the Olympics may have had more resources and facilities at their disposal.
"I want to make a record for Pakistan. I want to win a medal," Arshad told The Express Tribune, fully knowing that Pakistan have not won any piece of metal at the Olympics since 1992 Games in Barcelona.
In December 2019, Arshad became the first Pakistani track and field athlete to directly qualify for the Olympics by meeting the entry criteria for the Olympics, which was 85m. His throw was 86.29m which was not only his personal best, but also created the record at the South Asian Games for the best throw.
From that moment in Nepal, Arshad, a young father of two, has been looking for the best training and the best way to make sure he stands a chance to win a medal at the Olympics.
Arshad is trained by his coach Fayyaz Bokhari locally, but in 2020, he left for China to train. However, after Covid-19 outbreak, which he witnessed while being just a few hundred kilometres away from Wuhan, Nanjing, he had to return and the Olympics ultimately got postponed till 2021.
The year that Arshad spent was mostly about keeping himself motivated at home. "I really had to make sure that I train. Even if it meant 10 to 20 per cent of what I trained in Lahore, even after coming back from China last year," explained Arshad.
Arshad then returned to training in Lahore and although the Athletics Federation of Pakistan (AFP) tried to arrange a training camp for Arshad in European countries like Germany, the travel restriction due to the pandemic halted the plans.
Arshad continued training in Lahore and the Wapda athlete says he had to lose up to five kilograms on his return to serious training.
"I do focus on what I have in front of me. When I was home, my family was my focus. I had put on four to five kilograms and my coach was really worried because he thought it would take more than two months for me to even get into shape. However, I promised him that he will see the results sooner and in less than three months, I was peaking in form again, which is when we thought of bettering the record," said Arshad.
He made his international comeback with the World Athletics-approved Mashhad Imam Reza Athletics Tournament in Iran this April. Now Arshad is looking to throw at least 90 metres to stand a chance for at least a bronze medal in Tokyo.
From Iran, Arshad left for Turkey where he was trained by Kazakhstan's former international javelin thrower and now coach Viktor Yevsyukov in Antalaya. However, he had to stay in Turkey longer as the flights were not available on time and he also contracted Covid-19 pushing him to miss Eid-ul-Fitr with his family.
Arshadadds that javelin throw will see close competition as German athletes and India's Neeraj Chopra will be the top contenders.
Missing Eid again
Arshad along with women's entry on quota Pakistan's sprint queen Najma Parveen will be leaving for Tokyo on July 22 that is on the night of Eidul Azha.
"I'm in Lahore and missing Eid with the family again, but it is all worth it. My village and my family are all happy for me, sending me prayers. It is the sacrifice that one needs to make for the country," said Arshad.
Meanwhile, Arshad said he only knows Parveen closely out of the 10-person Pakistan contingent.
Najma made the national record in 2019 National Games clocking 23.86 seconds in the 200m, the event she will be running in Tokyo.
The 30-year-old will be making her second appearance in Olympics, earlier being at the 2016 Games.
She faced controversy when the AFP failed to send her entry in the Olympics, but the Pakistan Olympic Association made sure she gets the quota to represent the country.
Najma is a Faisalabad-based athlete but trained in Lahore as well with her coach.
COMMENTS
Comments are moderated and generally will be posted if they are on-topic and not abusive.
For more information, please see our Comments FAQ