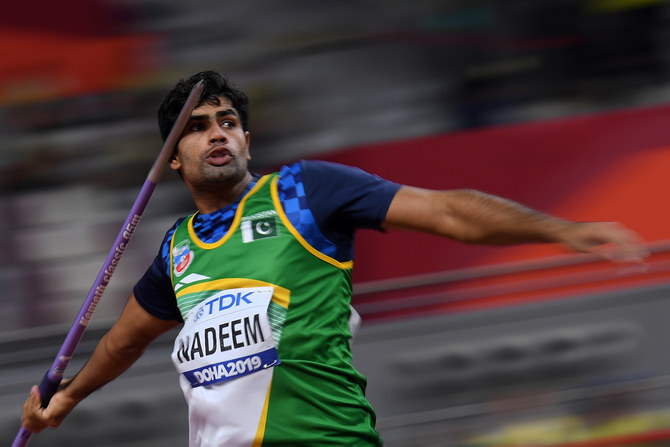 ---
KARACHI:
Arshad Nadeem is all set for the Tokyo Olympics and believes that miracles happen only after a difficult time, as he refers to his current form and seeing the effects of the Covid-19 pandemic on athletes and the training across the board.
Nadeem became the first Pakistan to directly qualify for the Olympics, meaning he fulfilled the entry standard for 2020 Tokyo Olympics in javelin throw (85m), by achieving the feat at the 2019 South Asian Games in Nepal.
The 24-year-old was looking forward to a bright 2020 after his record-breaking performance in Nepal with a 86.29m throw and was sent to China for training by the Athletics Federation of Pakistan (AFP). However, he became the first-hand witness of the spread of Covid-19, while being stuck in China in early 2020.
Nadeem returned to Pakistan eventually and began training in Lahore, but he had to stop because of the Covid-19 lockdown and returned home to Mian Chunnu in Khanewal.
"I couldn't wait to get back to training. I'm just relieved that there is certainty now that Olympics will take place, and I'm training even harder," Nadeem told The Express Tribune. "It has been a difficult time for all the athletes everywhere. I had no facilities at home. It becomes challenging to even stay fit and it was disturbing. The pandemic brought the limitations of just being home. I did my best to stay fit and I feel I have been disciplined. I carried on training in Mian Chunnu as well. I did the best I could, but I also know that there is only so much we can do alone. But I am happy to be back in Lahore, training here with my coach and making the best of my time."
Nadeem, who is also a young father, added that for him the challenge will be to improve his own best before going to Olympics and he has five months to get ready. He has been in Lahore for a month and a half now, getting back on track with his form.
"I was in my best form last year before the lockdown, then I had to go back, but now, in this moment, I can tell that physically I'm in my best shape. Mentally I feel relieved and motivated. Infact my target is to at least have a throw of 90 metres during my training in the later stage," added Nadeem.
He also said that the AFP have plans to send him to Kazakhstan for training, but he is happy to be training in Lahore for now.
"Of course going to Kazakhstan will be great. The Federal Minister for Inter-Provincial Coordination Dr Fehmida Mirza had met me in December, and we had a great discussion. But I feel even if I don't get to travel, I can have an impressive performance at the Olympics. However, it will be great learning if I train abroad. But even if things are not happening as yet, I feel we can train with whatever he have at the moment," explains a very optimistic Nadeem, who feel that it is his responsibility to give his best even during the training.
"At the end of the day we are doing this for Pakistan. It is my responsibility to give my all, to stay disciplined, to work hard and win too, because it is all to make sure I am making my country proud," said Nadeem, right before going off to his training session in the evening.
COMMENTS
Comments are moderated and generally will be posted if they are on-topic and not abusive.
For more information, please see our Comments FAQ