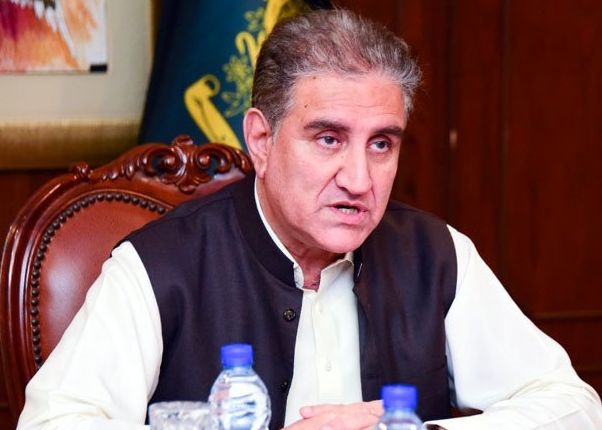 ---
ISLAMABAD:
Pakistan has reiterated that it was not siding with any party in Afghanistan after a section of media "misquoted" Foreign Minister Shah Mahmood Qureshi's recent remarks regarding Islamic State (IS) – also known by its Arabic acronym Da'ish – and Afghan Taliban.
"It is regrettable that certain sections of the media have misquoted and twisted the foreign minister's remarks about the need for peace and stability in Afghanistan through an Afghan-led and Afghan-owned process," said Foreign Office Spokesperson Zahid Hafeez Chaudhri in a statement issued on Monday.
The clarification comes after the foreign minister, in a press conference last week, had said that it was the responsibility of Afghan government to look into the reports that IS militants from Syria and Iraq were moving into Afghanistan.
He added that no stakeholder including Afghan government and Taliban wanted Da'ish to establish its roots in the war-torn country.
The spokesperson said FM Qureshi clearly spoke about consensus among the international community, the regional players and the Afghans themselves against the menace of terrorism.
"His remarks cannot be in anyway be misconstrued as advocacy for a particular side in the Afghan conflict," he added.
Also read: Pakistan asks US not to abandon Afghanistan
The spokesperson in a statement said Islamabad has repeatedly stated that Pakistan has no favourites in Afghanistan. "We see all sides in the conflict as Afghans who need to decide about their future themselves. We will continue to play a constructive facilitation role in the Afghan peace process."
The FO spokesperson urged that right now all energies should be focused on finding an inclusive, broad-based and comprehensive political settlement to the conflict in Afghanistan.
Earlier in the day, FM Qureshi said a section of Afghanistan, on behest of India, was making allegations against Pakistan and asked India to stop putting at stake the region's peace.
"We want India not to play the role of a spoiler by extending support to such factions," the foreign minister said in a statement regarding situation in Afghanistan and Indian Illegally Occupied Jammu and Kashmir (IIOJK).
The foreign minister said Pakistan desired peace in Afghanistan and was concerned about the deteriorating situation.
He reiterated a political solution to the Afghan problem through dialogue, adding that the world was acknowledging Pakistan's stance that "there was no military solution to the Afghan problem".
He mentioned that Pakistan was in consultation with neighbouring countries of the region for concerted efforts for peace and stability in Afghanistan.
Qureshi said he had invited his Afghan counterpart to visit Islamabad and hold talks to sort out any misunderstandings.
COMMENTS
Comments are moderated and generally will be posted if they are on-topic and not abusive.
For more information, please see our Comments FAQ