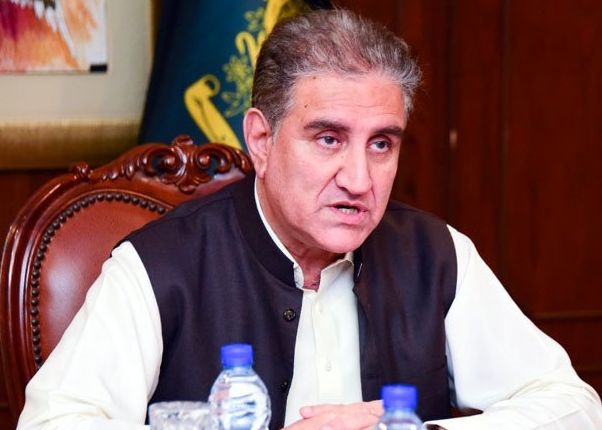 ---
MULTAN:
Foreign Minister Shah Mahmood Hussain Qureshi Sunday said India wants to sabotage peace in the region by creating obstacles for measures to bring peace and stability.
Qureshi expressed these views while addressing a ceremony organised by Pakistan Tehreek-i-Insaf (PTI) leader Sheikh Wajid to honour workers of Multan Waste Management Company.
The top diplomat maintained that promoting peace in the region was Pakistan's top priority but said that India's policies presented as a major hurdle in the efforts to pave a way for peace.
He said finding solutions to both the issues of Kashmir and Palestine was a prerequisite for peace across the globe. Prime Minister Imran Khan was highlighting Kashmir, Palestine and other issues of Muslim Ummah at all international forums, he added.
Pakistan will mark 5 August in an amicable way as PM Khan will visit Azad Kashmir to express solidarity with the oppressed people of Indian Illegally Occupied Jammu and Kashmir (IIOJK). The citizens in IIOJK were deprived of their basic rights, Qureshi said.
The foreign minister said that it was due to the efforts made by the premier that after more than 6 decades, the issue of Kashmir was broached again and put forth at all international forums.
Read Pakistan 'watchful, but not concerned' as India assumes UNSC presidency for August
"Now, the international community is raising voices in support of innocent Kashmiris, who are facing brutalities at the hands of occupying forces. The Kashmir issue has become a globally recognised issue following the efforts of the PTI government," Shah Mahmood Qureshi remarked.
He claimed that that the ruling PTI had become the most popular political party in the country.
Similarly, he said, the country was heading towards unprecedented progress under the vibrant leadership of Prime Minister Imran Khan. He hinted that the government was striving hard to overcome inflation.
He hoped that country would witness more positive economic changes very soon. The fourth wave of pandemic coronavirus is a big challenge for the government. He urged people to follow precautions in this regard.
He suggested the Sindh government make a strategy after complete consultation with National Command and Operation Centre (NCOC) in order to combat the pandemic effectively.
Qureshi also lauded the performance of Multan Waste Management Company especially on the occasion of Eidul Azha. On this occasion, Special Assistant to CM Punjab, MPA Javed Akhtar Ansari, and many other local PTI workers were also present.
COMMENTS
Comments are moderated and generally will be posted if they are on-topic and not abusive.
For more information, please see our Comments FAQ