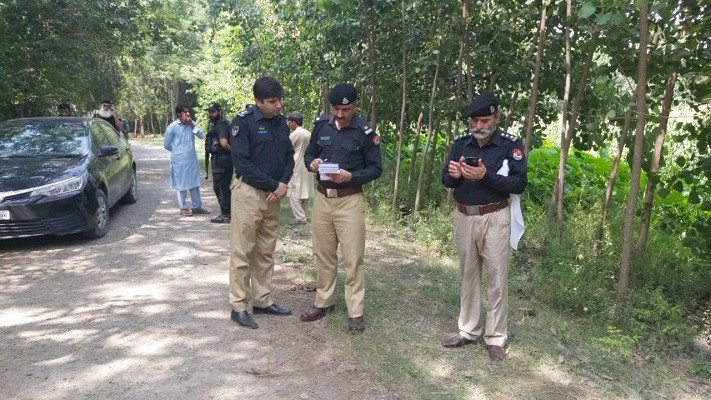 ---
PESHAWAR:
A police constable was gunned down by unidentified people here in Daudzai area on the outskirt of the city in Peshawar on Sunday.
Police told The Express Tribune that a constable of Frontier Reserve Force (FRP), Asif was on his way home after doing of his duty when unidentified people intercepted him and shot him dead.
The attackers managed to escape after committing the crime. Capital City Police Officer (CCPO) Abass Ahsan visited the site of the attack and inspected the crime scene.
He said that it was premature to jump to conclusion but they were investigating the case from all aspects and the possibility of a targeted attack could not be ruled out.
A police party reached the area and cordoned off the entire locality. They conducted a door to door search operation and questioned eyewitness. It is the second terrorism attack of its kind in the district after a hand grenade attack at a police mobile left one head constable dead in Hayatabad two days ago.
Read Cop killed in Peshawar grenade attack
Head Constable Binyamin was a Rapid Response Force (RRF) official who had been deployed near Karkhano Market during Polio campaign to monitor the exit and entry points in the city.
The attackers managed to escape after hurling the grenade. Latter TTP claimed responsibility for the attack.
"We have already been warned that the situation in Afghanistan could create serious law and order problems in Pakistan and that is why a high ranking meeting was held recently chaired by K-P CM Mahmood Khan who asked police to be ready to deal with all kinds of situations," he said, adding that police was now experienced and so was its investigation team but terrorism still posed serious threat.
The last rites of the slain police constable Asif were offered at Malik Saad Shaheed Lines.
COMMENTS
Comments are moderated and generally will be posted if they are on-topic and not abusive.
For more information, please see our Comments FAQ