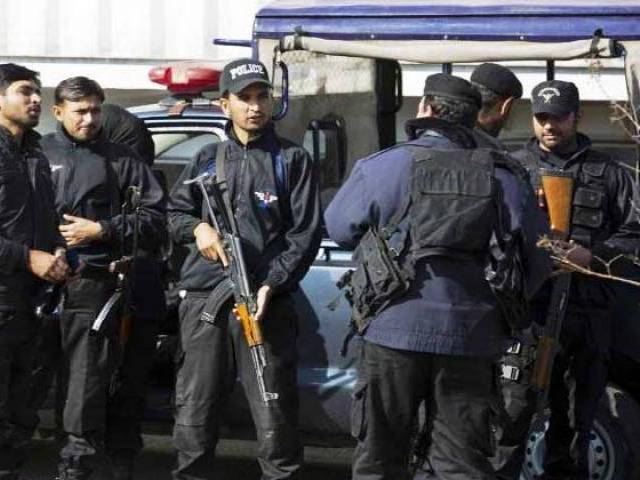 ---
PESHAWAR:
A policeman was killed and three passersby suffered injuries in a hand grenade attack at Rapid Response Force (RRF) vehicle in Karkhano Market on the outskirt of Peshawar Friday.
Peshawar CCPO Abass Ahsan said that RRF mobile had been deployed as part of polio security in the city and its duty was to deny entry to anti-social elements in the city.
He confirmed that one policeman had lost his life in the attack. Following the incident security had further been beefed up while bomb disposal unit was inspecting the scene.
Head constable Bin Yamin was rushed to the Hayatabad Medical Complex (HMC) in an injured condition where he was pronounced dead on arrival.
Three other injured were also hospitalized whose condition is stated to be stable now.
An eyewitness told The Express Tribune that a police mobile was standing guard when unidentified miscreants hurled a hand grenade at it, killing the head constable on the spot and injuring three others. The attackers managed to escape after committing the crime by taking advantage of the confusion and panic caused by the blast.
A large contingent of police reached the area and surrounded it. They also conducted a search operation and arrested several suspicious people.
Karkhano market is situated on the border of Peshawar and Khyber tribal district and several attacks at police occurred in the same area in the past in which innocent people including policemen lost their lives.
Talking to The Express Tribune a police official said there was an increase in terrorism incidents in Pakistan after the recent events in Afghanistan and police had already been informed about it.
"This is a clear-cut terrorism incident in which police was the target without any doubt. Taliban's territorial gains in the neighbouring Aghanistan could motivate TTP elements to carry out attack in Pakistan," he said.
On the other hand, the last rites of the slain policeman Bin Yamin were offered with full guard of honour in Malik Saad Police Lines, Peshawar. IGP, CCPO, Chief Secretary, SSP Operation and other high-ranking police officials were present on the occasion.
Later the coffin was sent to the deceased's ancestral area for burial.
Published in The Express Tribune, July 31st, 2021.
COMMENTS
Comments are moderated and generally will be posted if they are on-topic and not abusive.
For more information, please see our Comments FAQ