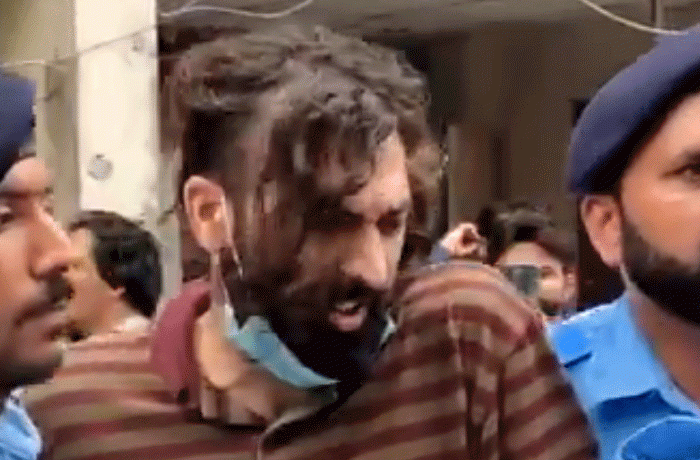 ---
ISLAMABAD:
A District and Sessions Court in Islamabad on Friday heard the bail applications of parents of Zahir Jaffer, the main suspect in the murder case of Noor Muqaddam, while Jaffer was taken to Lahore for a polygraph test in connection with the investigation.
Advocate Asad Jamal represented the mother of the accused. When the judge inquired as to where the investigation officer (IO) in the case was, counsel for the state Sajid Cheema replied that the IO had gone to Lahore to get the polygraph test of video of the incident.
Shaukat Ali Muqaddam, father of the victim, also a petitioner in the case, told the court that he was yet to hire a lawyer, therefore, he was given time till August 2 (Monday).
However, the judge asked him to arrange a lawyer on Friday. Suspects' lawyers prayed to the court to defer the hearing till Saturday (today). Cheema said that the IO in the case was in Lahore and he had with him the file of the case.
Read Court extends Zahir Jaffer's remand by three days
Jamal, representing the mother of the main suspect in the case, said that his client was put in jail without any solid reason. Later, the court adjourned the hearing of bail applications of the suspects till August 4. The court directed the parties to give final arguments at the next hearing.
Meanwhile, the Islamabad police reached Lahore with the main suspect for the polygraphtest of the video recovered from the crime scene. Zahir will also be made to go through the polygraph test at the Punjab Forensic Science Agency in Lahore.
Victim's last message to family revealed
Noor Mukadam had contacted her family the day she was killed in a house located in Islamabad's upscale Sector F-7/4 last week. "Don't look for me or contact the police," the sources quoted the deceased as telling her family in her last massage.
The family sources said Zahir tortured her multiple times in the past due to which she was under a lot of stress. She had been suffering for the past two years due to the suspect's ill-treatment of her, they added.
They further revealed Zahir also had issues with Noor Mukadam's religious leaning. The police had said one more person was injured in the event that took place at his residence where Mukadam went to pay him a visit.
Published in The Express Tribune, July 31st, 2021.
COMMENTS
Comments are moderated and generally will be posted if they are on-topic and not abusive.
For more information, please see our Comments FAQ