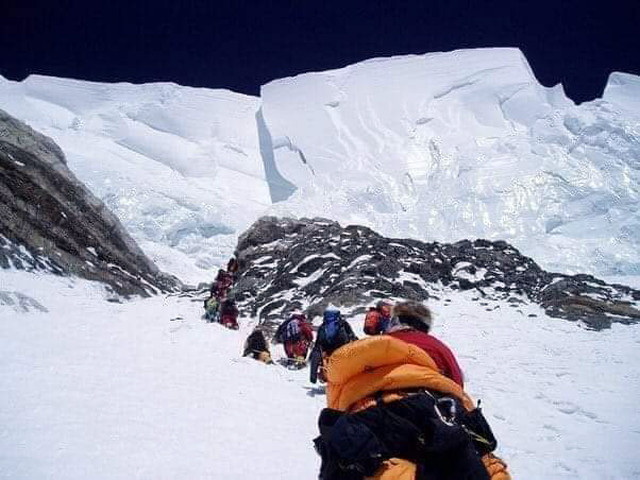 ---
Shortly after Shehroze Kashif, 18, became the youngest climber ever to summit K2, another Pakistani team from Gilgit-Baltistan's Hushe Valley – led by Ali Durani and comprising Muhammad Hassan, Mushtaq Ahmed, and Yousuf Meeri – summited the second highest peak in the world on Tuesday.
The team comprised experienced climbers and high-altitude porters.
Before Kashif, Sajid Ali Sadpara – the son of legendary Muhammad Ali Sadpara – was the youngest to climb K2 at the age of 20 in 2019.
Remarkably, Ukrainian Dmytro Semerenko also summited without supplementary oxygen. His teammate Irina Galay became the first Ukrainian woman to summit K2, Explorersweb.com reported.
Several of Pakistan's youngest climbers have been on K2 in recent days. Sajid Sadpara is part of an expedition there to find the body of his father, who went missing along with two other climbers in February.
On Monday, sherpas affixing ropes for climbers about 300m below an obstacle known as the Bottleneck discovered the bodies of Pakistan's legendary climber Muhammad Ali Sadpara, Iceland's John Snorri and Chile's Juan Pablo Mohr.
Also read: Legendary Ali Sadpara's body found on K2
The same day, Samina Baig, 30, said she was abandoning an attempt to summit the mountain because of dangerous conditions. Baig became the youngest Pakistani woman to scale Mount Everest in 2013.
Winds on K2's peak can blow at more than 200 kilometres per hour (125 miles per hour) and temperatures drop to minus 60 degrees Celsius (minus 76 Fahrenheit).
Unlike Mount Everest, which has been topped by thousands of climbers young and old, K2 is much less travelled.
On Sunday, Scottish climber Rick Allen has died while attempting to summit the world's second-highest peak.
Allen was killed after being hit by an avalanche while attempting a new route on the mountain over the weekend. His body was recovered on Sunday evening.
(With input from agencies)
COMMENTS
Comments are moderated and generally will be posted if they are on-topic and not abusive.
For more information, please see our Comments FAQ