 ---
SWABI:
Police in Khyber-Pakhtunkhwa's (K-P) Swabi district on Tuesday rescued a woman, who had been chained and locked inside a dark room by her three brothers for the last year.
Talking to The Express Tribune, District Police Officer (DPO) Swabi Muhammad Shoaib said they had received information about the woman, and after verification, raided the house and released her from the illegal captivity.
"The victim H* is around 33 and she is the mother of two children. She had a fight with her husband and was divorced by him in 2016."
The police official added that the divorce enraged her brothers and they also did not take kindly to the woman seeking a job and moving court against her former husband for expenses for the two children.
"In order to stop the woman from going out, her brothers not only tortured her but also chained and locked her in a dark room. A chain had been wrapped around her neck and another one was around her foot for the past year. She had been kept like an animal inside the room, without electricity, said the DPO.
He added that her three brothers, Sayar Khan, Fahim Khan and Nadeem Khan had been arrested while the fourth brother is on the run.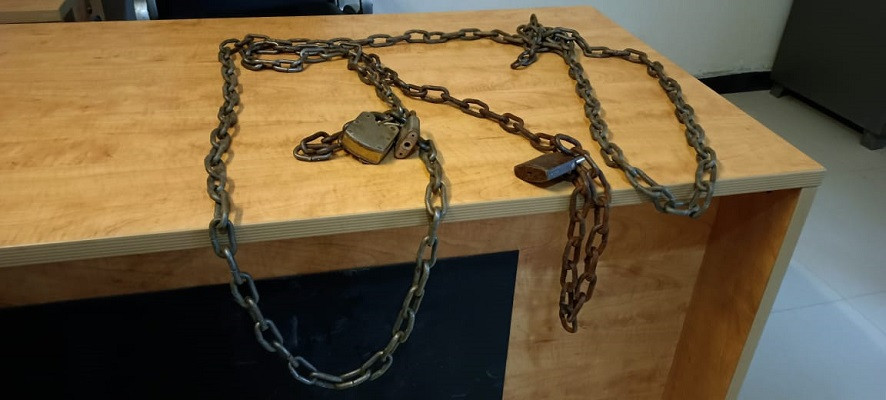 PHOTO: EXPRESS
Read More: Man kills sister for 'not serving food on time'
"There was not even a fan inside the room. When we raided the house, we saw that she had been chained like an animal and the only light coming into the room was through a window," said another police official.
The policeman added that the woman had been locked up as her brothers blamed her for the divorce and were also against her seeking a job and going to court to pursue the case against her former husband.
She was also constantly tortured by them and they also threatened to kill her, he said further.
The woman stated in her FIR that she married 13 years ago and had two children, a girl and a boy. A case has been registered against the accused and police started an investigation in the case.
COMMENTS
Comments are moderated and generally will be posted if they are on-topic and not abusive.
For more information, please see our Comments FAQ