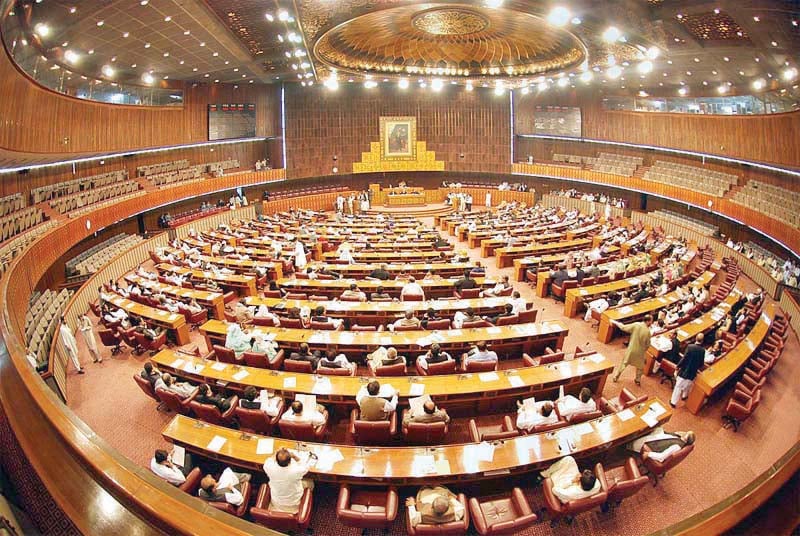 ---
ISLAMABAD:
PML-N lawmaker Malik Sohail Khan Kamrial has been attending National Assembly sessions despite being declared a proclaimed offender by at least two courts of the country in cheque fraud cases amounting to Rs120 million.
The details of the lawmaker from NA-56 (Attock-II) emerged from two FIRs, subsequent proclamation orders, a request to block his CNIC and the complaints separately registered against him on the Prime Minister's Citizen Portal.
Despite that, the MNA continues to attend NA sessions and police have so far simply preferred to look the other way.
The Ghalib Market police station in Lahore and the Model Town police station in Gujranwala were apparently "unaware" that the accused in the case was a sitting MNA.
Officials at both the police stations, however, confirmed that the cases were registered against Kamrial and he had been declared a proclaimed offender by the courts concerned after legal formalities were fulfilled.
Muhammad Waris, who is the owner of Aslam Oil Traders and complainant in the cases, stated in the FIRs that he supplied petroleum products to Kala Shah Kaku Filling Station whose "sole owner" is MNA Kamrial.
Read More: Attock police nab proclaimed offender
The complainant stated that Aslam Oil Traders had to receive Rs120 million from the MNA.
He added that Kamrial had issued two cheques in favour of Aslam Oil Traders on May 18, 2020 -- an amount of Rs60 million each -- but they bounced when he submitted them to banks in Lahore and Gujranwala the next day.
Subsequently, two separate FIRs were registered against Kamrial at Ghalib Market and Model Town police stations in Lahore and Gujranwala, respectively, under Section 489-F (dishonestly issuing a cheque) of the Pakistan Penal Code.
Section 489-F states: "Whoever dishonestly issues a cheque towards repayment of a loan or fulfilment of an obligation which is dishonoured on presentation, shall be punished with imprisonment which may extend to three years or with fine, or with both, unless he can establish, for which the burden of proof shall rest on him, that he had made arrangements with his bank to ensure that the cheque would be honoured and that the bank was at fault in not honouring the cheque."
After the police failed to arrest the MNA, Waris lodged an initial complaint on the Prime Minister's Citizen Portal on March 28, 2021. After receiving no response, Waris said, he re-launched it on June 23, 2021, but to no avail.
Despite all efforts, Waris said he neither received relief nor justice. "The Prime Minister's Citizen Portal is a total failure," he said, adding that Kamrial was a sitting MNA and the State had failed to provide justice. He lambasted the police as well, saying they also said they could not do anything as the accused was an influential person.
Waris said he had specifically mentioned in his complaint on citizen portal that the National Assembly speaker should be intimated for cooperation leading to lawmaker's arrest but nothing had happened so far.
When contacted, the MNA said that the matter was not in his notice. He asked to share the copies of the FIRs, saying he would share his comments after going through them.
The NA Secretariat officials, requesting not to be named, said that the police have not yet intimated the assembly or the speaker office about the cases and the legal proceedings that have taken place so far against the lawmaker.
COMMENTS
Comments are moderated and generally will be posted if they are on-topic and not abusive.
For more information, please see our Comments FAQ