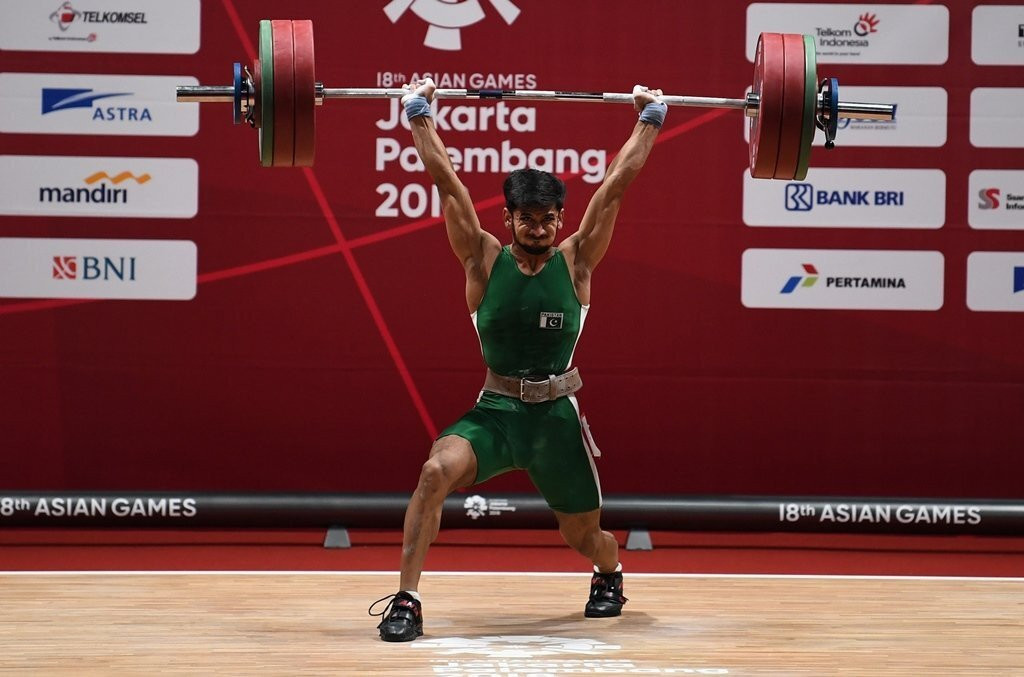 ---
KARACHI:
"I am setting my mind to win, whether I am lifting this weight at the Olympics or in an empty room during quarantine, I know I need to be perfect. I'm looking at it as practically as possible, I'm not taking any pressure," Talha Talib explains at he left for Tokyo in the wee hours of July 21.
The history he is carrying is greater than the number of his age. He is the first weightlifter from Pakistan since 1976 to make the cut for the Olympics. That is 44 years, and 45 should we add the delay due to the Covid-19 pandemic in holding the 2020 Games, and Talha is not shy of the responsibility.
"I am leaving my family, but my father, my friends and my family are with me everywhere, in my thoughts and that empowers me. I know I couldn't have made my way to the Olympics if it was not their hard work," Talha told The Express Tribune. "I have trained hard and I will be peaking at the Games now. I am sure that I can win a medal. My snatch has improved to 148 and then the clean and jerk to 168kg, but I know I can lift more the Games. I'm feeling good about my chances."
Talha has been a wonder kid throughout his journey to the Olympics as the youngster had to face multiple obstacles that would have broken any ordinary soul.
He first missed out on the Asian Junior Championship in Korea. Then the South Asian Games weightlifting event was stripped from the Olympic qualification event. And lastly, Talha had to miss on international competitions due to the lack of resources.
He won the gold medals at the 2020 International Solidarity Weightlifting Championship aggregating 304kg, and that was his last international event before the pandemic hit the world.
The Pakistan Olympic Association had announced in June that the Commonwealth Games bronze-medallist will be representing the country on an invitational place, which is often given to the athletes who have shown improvement in their category and have been deserving of a chance.
"Accepting the request of NOC Pakistan, the International Olympic Committee has confirmed that the Olympic Games Tripartite Commission has finalised the Invitation Places in collaboration with International Weightlifting Federation (IWF) and Talha Talib has succeeded to secure the Invitation place in -67kg in Weightlifting for Tokyo 2020," announced a press release.
Overcoming the odds
The training Talha did at his home town in Gujranwala was nothing short of labour of love and miracle. He was training at the vicinity of a local school where he, and his friends and family made a make-shift gym. He said he spent at least six hours in training each day, without taking much rest.
The result of his training showed greatly with his comeback at the international stage in April as he lifted 315kg, also taking the bronze medal for the best snitch of 148kg in Tashkent, Uzbekistan at the Asian Championship.
Talha, even after taking the medal, felt he should have won the championship more convincingly. He returned home but also found a notice from the local school that he needs to vacate the premises after July, as the school was going into loss financially and was struggling to keep afloat.
Talha has been preparing for the Olympics without standard equipment too, but he is not giving up on his dream of an Olympic medal. Even if it meant that he had to leave his mother a little upset.
"Of course my family understands it, they motivate me also. My mother was a little upset because she was missing me on Eid, but that is a sacrifice we can make, because it is a shared dream. I trained at home mostly, because my father was coaching me too. The drastic change of travelling to Islamabad would have disturbed my routine, so I chose to train here. I am ready to take this challenge head on, without much pressure, but with responsibility," said Talha, adding that the Government of Punjab has promised a better facility for him to train after he returns from Tokyo.
Talha being a man of faith made his training according to his prayers, waking up for the late night prayers (Tahajjud), praying and then training till the morning prayers (Fajr) and so on.
He reveals that his intentions are to make the country proud and break the bad streak for Pakistan at the Olympics, as the country has not won any metal since 1992 Barcelona Games.
Talha saw the toughest competition from the Chinese weightlifters at the Asian Championships, but he sees the four-time world champion Chen Lijun as his hero too.
"I see Lijun and he seems to be a very inspiring athlete to me. He is definitely one of my heroes. He is very good on social media too, giving tips, being a thorough champion. I really respect him and feel great to be competing with him," said Talha as he will be making his Olympic debut.
Talha's event will be on July 25 in Group A of the 67kg event.
COMMENTS
Comments are moderated and generally will be posted if they are on-topic and not abusive.
For more information, please see our Comments FAQ