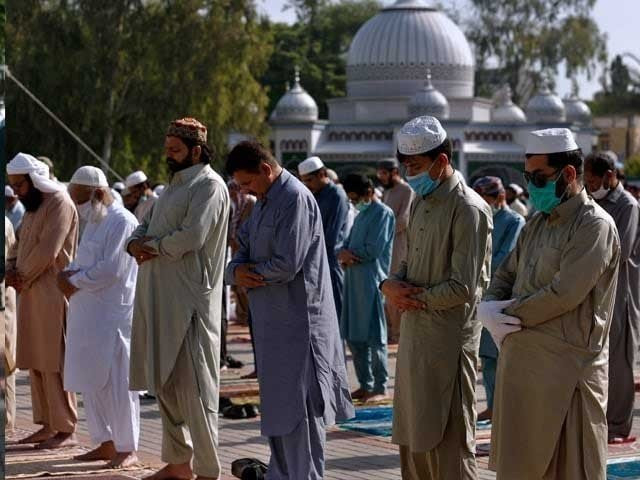 ---
The nation is celebrating Eidul Azha with great religious zeal and fervour on Wednesday to commemorate the supreme sacrifice of Prophet Hazrat Ibrahim (AS), under strict anti-Covid-19 standard operating procedures (SOPs).
The day dawned with special prayers in mosques for the well-being of the Ummah and progress, prosperity, safety and security of the country. Religious scholars, in their Eid sermons, highlighted the importance to follow the Sunnah of Hazrat Ibrahim (AS).
Following the Eid prayers, the faithful performed the ritual of sacrificing animals, spending their time feasting with family and friends and distributing sacrificial meat among their family members, friends, and the poor.
The government has advised the faithful to follow the SOPs for containing the Covid-19 pandemic while performing the ritual of sacrificing animals. While offering Eid prayers, they were asked to maintain distance, and avoid hugging and instead extend only greetings.
Also read: President, PM greet nation on Eid, urge caution against pandemic
Special security arrangements have been made to ensure peaceful observance of the three-day festivity across the country. Radio and television channels will air special programmes during the Eid days.
Elsewhere around the world, Muslims around the world observed the first day of Eidul Azha on Tuesday in the shadow of the pandemic and amid growing concerns about the highly infectious delta variant of the coronavirus.
Indonesia marked a grim Eid amid a devastating new wave of coronavirus cases in the world's most populous Muslim-majority nation. The surge is believed to have been fuelled by a rapid spread of the Delta variant.
In Malaysia, measures were tightened after a sharp spike in infections despite a national lockdown since June 1. People are banned from travelling back to their hometowns or crossing districts to celebrate. House visits and trips to graveyards are also banned.
Also read: NCOC stresses strict compliance of Eid SOPs
Iran on Monday imposed a week-long lockdown on the capital, Tehran, and the surrounding region as the country struggles with another surge in the coronavirus pandemic, state media reported. The lockdown begins on Tuesday.
In Bangladesh, authorities allowed an eight-day pause in the country's strict lockdown for the Eid holidays. Egypt has also allowed travel by people to spend Eid with their families.
Muslims of India are also celebrating Eid on Wednesday (today). India's Muslim scholars have been urging people to exercise restraint and adhere to health protocols. Some states have restricted large gatherings and are asking people to observe the holiday at home.
Lockdowns will severely curtail Eid festivities in Sydney and Melbourne, Australia's two largest cities. Jihad Dib, a New South Wales state government lawmaker, said the city's Muslims were sad but understood why they would be confined to their homes with no visitors allowed.

(WITH INPUT FROM NEWS DESK)
COMMENTS
Comments are moderated and generally will be posted if they are on-topic and not abusive.
For more information, please see our Comments FAQ