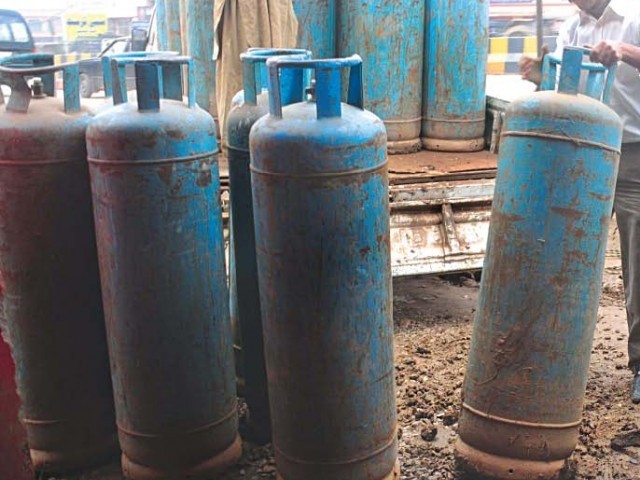 ---
LAHORE:
The provincial metropolis' various localities are unfortunately infested with thousands of live ticking-bombs in the form of substandard LPG gas cylinders, leaving the society to fend for themselves when a blast occurs.
These LPG cylinders are most commonly used in various shops of the city and were operating without SOPs. During the past two weeks alone, at least eight cylinder explosions were reported in the city claiming at least two lives and leaving two dozens injured.
A total of five cylinder explosions occurred at commercial places. In the Barkat Market incident, at least 14 cylinders had exploded turn by turn.
One of these explosions may be considered an accident. However, the recurrence of such incidents was treated as a 'phenomenon' by local analysts. LPG cylinders exploded too frequently in Lahore because the LPG distribution system was operating in grave violation of rules and regulations set for this business.
The Oil and Gas Regulatory Authority (OGRA) rules made training for dealing in this business mandatory. However, a dominant majority, that was in thousands in Lahore, had not gone through any kind of training.
The City District Government also had not set up any streamlined mechanism to fill this gap. According to the OGRA rules, no one except authorised distributors and their sub distributors were allowed to do LPG business. This was an alien concept on ground.
In addition to this, gross safety violations were observed in the metropolis. There were no fire extinguishers or sand buckets seen in these shops.
Read Eight killed in gas cylinder explosion
The use of vacuum for filling was banned and hardly a shop might be observing this rule.
No LPG business was allowed near restaurants, ovens, schools, colleges, mosques, churches, wedding halls, hospitals, welding shops or wood tile but LPG cylinders could be seen in bulk around all these spots in the city.
The OGRA rules also stated that no outlets were allowed to operate in the street area which was less than 20 feet wide. Such a business could be regarded creating congestion in the area. Persons under the age of 18 were not allowed to work on LPG distribution, sale points and warehouse.
However, almost each business outlet was violating these rules. What made this LGP distribution situation even grim was that the government did not placed any mechanism to monitor and regulate it. The LPG distributors would keep on making profits with complete impunity.
The authorities concerned would treat the matter as a seasonal issue. They likely believed fire accidents and cylinder explosions had multiplied during the summer owing to high temperatures.
This notion is simply wrong as these cylinder blasts were occurring due to a fundamentally flawed system of LPG distribution.
The explosions did not occur because of high temperatures. These blasts took place because those dealing in the distribution business had not taken any proper safety or preventive measures.
The measures that were taken so far after the cylinder blasts occurred in the metropolis made no contribution to the safety of the citizens.
All this is going on right under the nose of the Lahore administration. Countless 'accidents' or cylinder explosions had occurred in the past which could not wake up the administration from its deep slumber, as if an explosion of the magnitude of the 2020 Beirut incident was what they waited for to bring real safety on their priority list.
Published in The Express Tribune, July 19th, 2021.
COMMENTS
Comments are moderated and generally will be posted if they are on-topic and not abusive.
For more information, please see our Comments FAQ