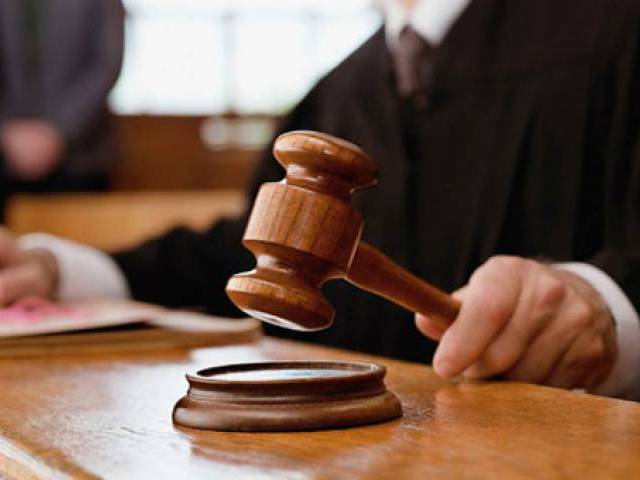 ---
LAHORE:
The relation between bar and bench at Faisalabad courts has hit a new low as the judges were not ready to compromise on humiliation of one of their colleague at the hands of lawyers.
Reportedly, the lawyers believed the fault was at judge's side who misconstrued the facts and got registered an FIR against a lawyer who was being stated by the judges as an alleged "assailant".
Sources claimed that representatives of Punjab Bar Council (PbBC) and other bar councils met thrice with Lahore High Court (LHC)'s Chief Justice (CJ) Muhammad Ameer Bhatti to get resolved the matter but the lawyers could not succeed in convincing the LHC CJ over the misconduct of a PbBC member with the civil judge.
In recent development, few judges denied hearing those cases wherein PbBC member Mian Mehran Tahir was the counsel.
The civil judges clearly mentioning in order sheets stated, "Perusal of record reveals that Mian Mehran Tahir, advocate is counsel on behalf of the plaintiff. He is advocate who assaulted my learned brother Malik Farooq Ahmed, learned civil judge 1st class, Faisalabad and injured him. Due to this reason, I do not want to hear this case.
Hence, file of instant case be humbly placed before worth district & session judge Faisalabad for appropriate orders for July 17, 2021."
This order was passed by 1st class Civil judge Sarfraz Khan on July 15, 2021.
Earlier, another order was passed by 1st class Civil Judge Zafar Farid Hashmi in first week of July with similar contact wherein he had denied hearing the matter of the aforementioned lawyer.
Some senior lawyers in PbBC said, "They are ready to tender apology from the judges merely having such intention that this matter could be put an end. No doubt we are the bar and bench and we should have good relations and there should be no space for such rifts".
When contacted, PbBC member Mian Mehran Tahir said, "The judge had taken case file at his home and they were demanding the attested copy of the order but he has not handed them over any order that led to a scuffle."
Punjab Bar Council (PbBC) Vice President Amjad Iqbal Khan said they were making dint of efforts to resolve the matter and he hoped the matter will be resolved with the kindness of LHC CJ Bhatti.
On a query, he further said, "They did not want to know who was wrong between the lawyer and judge dispute but the matter is that this issue should be resolved and they should move ahead, leaving the past incident behind."
Published in The Express Tribune, July 17th, 2021.
COMMENTS
Comments are moderated and generally will be posted if they are on-topic and not abusive.
For more information, please see our Comments FAQ