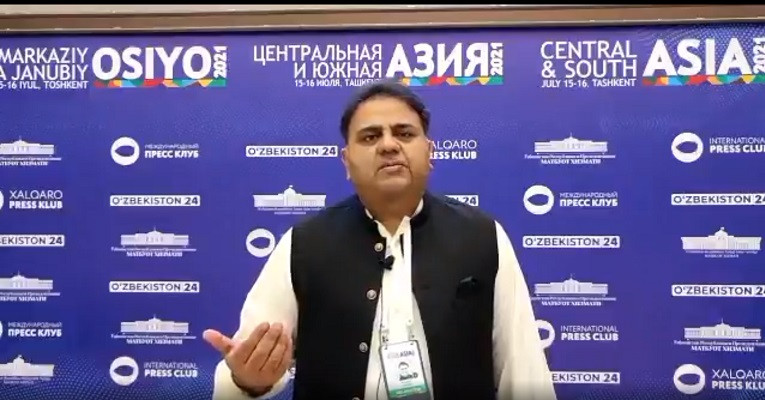 ---
Minister for Information and Broadcasting Fawad Chaudhry said on Friday that Pakistan wants peace in Afghanistan in order to improve regional connectivity.
The minister's remarks came during an interview, conducted on the sidelines, at the International Conference on South Asia-Central Asia Regional Connectivity-Challenges and Opportunities in Tashkent.
"When there is peace n Afghanistan, we would be linked to Central Asia," the minister said. "Prime Minister Imran Khan's efforts for the purpose continue and will succeed."
The minister further said that there was a meeting between PM Imran and Afghanistan President Ashraf Ghani during which important matters were discussed. Fawad added over 60 countries were participating in the conference.
"Heads of state and foreign ministers from different countries have gathered in Tashkent to discuss ways to enhance regional trade and economy," he stated.
Referring to talks between Prime Minister Imran Khan and Uzbek President Shavkat Mirziyoyev, the information minister said that the bilateral meetings focused on launching a freight system that would connect Gwadar and Karachi to Tashkent.
Read More: PM's Uzbekistan visit to open new avenues: Fawad
'Pakistan will continue to play its reconciliatory role'
Foreign Minister Shah Mahmood Qureshi has said Pakistan will continue to play its reconciliatory role for peace in Afghanistan.
The minister passed the remarks while in conversation with US Special Representative for Afghanistan Reconciliation Zalmay Khalilzad, during the International Conference on 'South Asia-Central Asia Regional Connectivity: Challenges and Opportunities' in Tashkent on Friday.
FM Qureshi said the Afghans themselves must decide the future of their country and added that Pakistan considers peace in Afghanistan essential for the promotion of regional linkages and economic development in the region.
Prime Minister Imran Khan also emphasized the importance of stability in Afghanistan, stating that "Pakistan will continue to support all initiatives for peace and reconciliation in Afghanistan".
Earlier, Pakistan and Uzbekistan reaffirmed their commitment to further strengthen their fraternal ties based on religious, cultural and historical commonalities.
Moreover, the two countries, expressing satisfaction at the continued progress in bilateral relations, announced the establishment of a strategic partnership for the mutual benefit of the two nations.
Prime Minister Imran Khan and Uzbek President Shavkat Mirziyoyev after holding wide-ranging bilateral talks, signed the Joint Declaration on the Establishment of Strategic Partnership, with a focus on increased cooperation in the areas of trade and economy.
The development took place during Premier Imran's two-day (July 15-16) visit to Uzbekistan on the invitation of President Mirziyoyev.
PM Imran said with Pakistan and Uzbekistan sharing the same objective of lifting their people from poverty, increased and strong bilateral trade and economic relations would be mutually beneficial to a win-win situation for the two sides.
Stressing on the importance of economic cooperation, PM Imran said the two countries were following similar visions of the new Uzbekistan and new Pakistan to lift their people out of poverty through a welfare state.
COMMENTS
Comments are moderated and generally will be posted if they are on-topic and not abusive.
For more information, please see our Comments FAQ