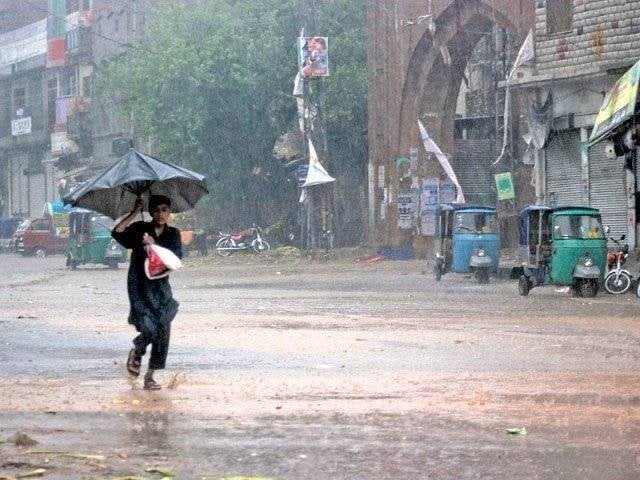 ---
KARACHI:
As Karachi received its first spell of monsoon rains on Monday various parts of the metropolis faced power outages as power transmission systems got disrupted.
According to Express, light and heavy rainfall continued intermittently in the port city wherein at least 17 mm of rain had been recorded in Gulshan-e-Hadid, 8 mm in Nooriabad, 5 mm in PAF Faisal, 4.3 mm in University Road, 4 mm in Landhi, 3.6 mm in Saadi Town, 3.2 mm in Jinnah Terminal and 2.8 mm in Surjani Town.
According to the Meteorological Department, it would remain cloudy in Karachi for the next 24 hours, whereas the metropolis is expected to recive drizzle for 48 hours. Spells of heavy rain are also likely to start in Karachi from Tuesday evening.
As is customary in the metropolis during rains, dozens of traffic accidents were also reported. However, no casualties were recorded as of yet.
Read Country 'ill-prepared' to deal with monsoon rains
Power outage
Meanwhile, many areas of Karachi faced power outages due to rain. Electricity supply had been suspended for several hours in Surjani Town, Saddar, Old City Area, Baldia Town, Orangi, Korangi, Golimar and other areas.
The power outage affected the Dhabeji pumping station where at least 20 water pumps are used for the city. While the mainline burst again due to back-pressure of water, the repair work on it could not be started due to rain.
Regarding the supply of electricity during rains, the K-Electric spokesperson said that obtaining electricity from illegal sources can cause fatal accidents.
"Citizens should stay away from broken wires, TVs, internet cables, electricity poles and PMTs (Pole-mount transformers)," he added. "Improper use of electrical appliances such as water motors in rain can lead to accidents as well."
The spokesperson further said that as a precautionary measure, power might be temporarily cut off in some areas during the rains. As soon as the weather improves, electricity would be restored, he added.
Complaints regarding electricity can be made by contacting 118 Call Center, SMS to 8119 or K Electric Social Media Platform, he informed.
'Drainage work underway'
Sindh government spokesperson Barrister Murtaza Wahab said that drainage work was underway in various low lying areas of the city.
He further directed the administration concerned not to allow water to accumulate in any part of the city.
"Water is being drained from busy highways whereas no rainwater has accumulated around the Wazir Mansion in Kharadar. Other development works including sewerage around the mansion were completed a few days ago," Wahab added.
COMMENTS
Comments are moderated and generally will be posted if they are on-topic and not abusive.
For more information, please see our Comments FAQ