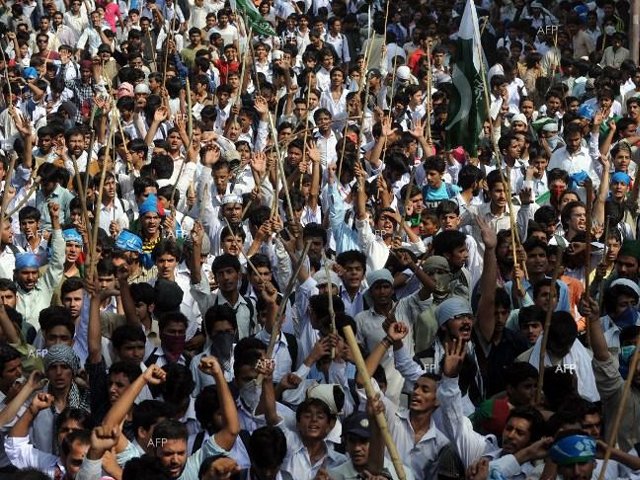 ---
QUETTA/ PESHAWAR/ LAHORE/ KARACHI:
Nearly three decades since the first global population awareness day, Pakistan's struggles with keeping its national headcount at sustainable levels continues.
With its limited resources and infrastructure that is in dire need of attention, experts warn that the country may not be able to meet the needs of its rapidly increasing population.
While the growth rate, they said, is not the root cause of all problems, it certainly exacerbates the pressures on livelihoods, natural resources, and provision of certain services, especially health and education.
"We missed the boat on integrating this population growth into development planning that was done in the 60's, and up to the 90's. Since about 2000, we have largely ignored population in economic planning," cautioned Dr. Zeba Sathar, who heads the Population Council's office in Islamabad.
According to research conducted by several reputed organizations, including the UN Population Division, Pakistan would require more than 117 million jobs, 19 million houses, and 85,000 primary schools in the next two decades to meet the demands of its rapidly increasing citizen count.
Echoing Dr. Sathar's concerns, Dr. Shahzad Ali, Vice Chancellor of Health Services Academy, Islamabad said that unchecked population growth is a disaster for any country. "When we allow the unchecked increase in population, it becomes a burden on all resources," he explained.
The globally accepted theory on population growth is fairly simple. Given that there is a fixed quantity of land, an increase in the population will eventually reduce the amount of resources that each individual can consume and access, ultimately resulting in disease, starvation, and even conflict in some cases.
While Pakistan is not at that stage, there is a strong chance that high birth rates and rapid population growth will eventually place a drag on economic development.
Most populous province
According to experts, if the numbers continue to grow at the same rate, the population of Punjab, which already holds the title of the most populous province, will be equal to the current national headcount by the time Pakistan marks its centennial.
Read Population and Pakistan's development
Dr. Shoaib Ahmed, Advisor, Population Welfare Punjab was quick to pin the blame on lack of awareness campaigns in the province. "Scholars can play an important role in encouraging people to look into family planning. It is common in Iran, Malaysia, Indonesia and Bangladesh," he said.
Another reason for Punjab's population crisis is the increase in the number of underage marriages. According to Shahid Nusrat, who serves as Additional Secretary, Technical Welfare, 30% of girls get married between the ages of 16 and 22.
"That is a major reason for having more children In addition, the desire for a son is also a reason for an increase in the number of children," said Nusrat.
Soaring urban population
While Punjab struggles with a rapid increase in its rural population, urban areas in Sindh are under continuous pressure of population growth due to the non-stop migration of people from rural areas and the heavy influx of people from other parts of the country.
According to Dr. Talib Lashari, Technical Advisor of Population Welfare Department, Sindh and Costed Implementation Plan (CIP), majority of the populace living in Sindh's and Karachi's unplanned localities or katchi-abadis either does not believe in the concept of smaller population or it has remained out of reach for implementing family planning programmes.
In Sindh, Dr. Lashari said the government had to launch a separate program to manage the growing population of Karachi, the southern port city that is known as Pakistan's financial hub. "It could not get effective results due to a shortage of human resources," he conceded.The population in Sindh, he said, continues to grow at a rate of 2.41%.
When asked to share a forecast, experts said the province would need more than 25 million jobs by 2040 to meet the needs of its growing population.
Second highest growth rate
According to data collected through various sources, Khyber Pakhtunkhwa's headcount is also rapidly increasing.
Experts from the province pointed out that the fast-rising population is degrading economic and agricultural resiliency in the province."Residential areas are expanding and land for agriculture is shrinking in the province. You can blame the increase in population for this trend," said Dr. Muhammad Rafique, who represents the United Nation Population Fund (UNFPA) in K-P.
The annual population growth rate, another expert cautioned, stands at 2.89% -- which is the second highest after Balochistan. "At this rate, the province will need more than 2.3 million houses in the next twenty years. You can imagine the impact it will have on food supplies." said the expert, who was speaking on the condition of anonymity.
Highest growth rate
In Pakistan's population crisis, Balochistan bagged the title of the province that has the highest growth rate. Speaking to the Express Tribune, Secretary Population Welfare Department, Balochistan Manzoor Ahmed Zehri said that the situation is alarming when it comes to Balochistan where the annual population growth rate is 3.7, much higher than the national average.
Read Population quicksand
He added that Pakistan needs to prioritize the reproductive health sector as the growing population poses threats to the overall wellbeing of the nation."The solution lies in planning every pregnancy as unplanned pregnancies not only bring socio-economic and psychological problems for the family but also for the entire society," he explained.
Solutions
For Pakistan's population conundrum, experts presented a simple and uncomplicated solution. The country, they said, needs efficient family planning services and a clearly laid out media campaign."The basic problem in provision of family planning services– a large bulk of married couples need these services but do not have access.
The rich get these services, the poor do not-that is the simple truth," said Population Council's Dr Zeba Sathar.Sathar proposed that family planning needs to be presented as a part of health care, so children are guaranteed rights of survival, nutrition and schooling.
Dr Shahzad Ali is of the view that even if our advertisement is targeted our family planning centres are at odd places, in the markets and in open spaces where each client is seen visiting. "In Pakistan even our men feel shy going into those shabby centres then what do we say about the women," he explained.
The best option, according to experts, is to integrate health and population so that family planning services are available in health centres at all levels, to avoid any taboo or stigma, to seek planning advice and contraceptives.
"Population planning is not rocket science, it has been blown up in ways and is largely an excuse for not caring enough to face a looming issue that largely affects younger and future generations of Pakistanis," Sathar said.
COMMENTS
Comments are moderated and generally will be posted if they are on-topic and not abusive.
For more information, please see our Comments FAQ