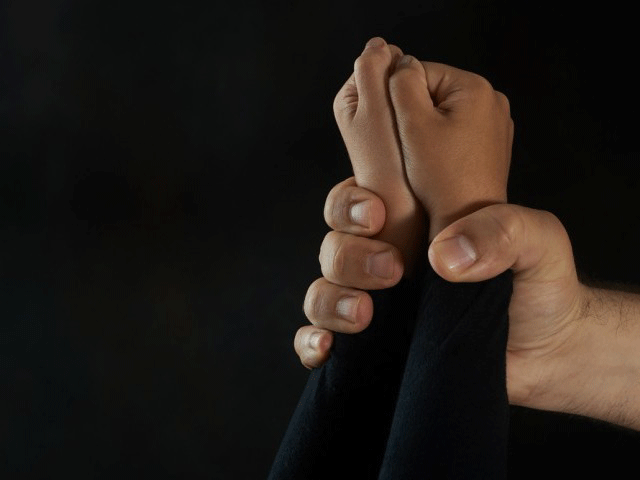 ---
CHAK JHUMRA:
Two women and two children were allegedly raped in separate incidents in Chak Jhumra.
Mohammad Zeeshan Raza, a resident of Ghaziabad, reportedly informed Razaabad police that his aunt who worked in the Anasi Road area had been molested.
"The suspect Abdul Sattar, resident of Madina Town, claimed that he provides ration and financial assistance to poor women. He called my aunt at Anasi Mor in Kaleem Shaheed Colony on the evening of July 5 and took her to a warehouse on the pretext of providing her ration and financial assistance, where Abdul Razzaq, resident of Hajiabad, sexually assaulted her at gunpoint and fled from the scene," the complainant stated.
Read Teen 'gang-raped' by five in DI Khan
Razaabad police registered a case under Section 376 of Pakistan Penal Code (PPC) and started a search for the suspect. Separately, Tanveer Ahmed allegedly found a woman alone in her house in the suburban village of Thatta Pirka and sexually assaulted her at gunpoint.
In another incident, the five-year-old son of Safdar, a resident of Arifwala Road, Millat Town, was playing outside his house when a 12-year-old suspect, who is son of Basharat, lured him to a nearby house and molested him.
Meanwhile, Parveen Akhtar's son was allegedly molested by Nafees.
On receiving the complaints, the police registered cases under Section 377 PPC and started search for the suspects.
Incidents where minors and women are sexually assaulted are not uncommon in the province. In a case reported earlier this year in April, a man allegedly raped a nine-year-old girl in Christian Colony area of Adhorai village within the limits of Aymanabad police station of Gujranwala.
The girl was reportedly seen walking with Qamarul Zaman, a man from the neighbourhood, who had gone missing from the village after the incident.
Police immediately registered a case on the father's complaint and the girl was taken to hospital for medical treatment. According to the police report, the daughter of Joseph Masih, had gone to a grocery store and was crying when she returned home after a while.
Separately, a 14-year-old girl was allegedly raped at gunpoint in Khurrianwala. According to the police, Ghulam Mohammad, a resident of Jhumra Road Chak No 187RB filed a complaint that his 14-year-old daughter had been raped at gunpoint in his home by Haroon Masih.
Jhumra police registered a case under Section 376 (punishment for rape) PPC.
Published in The Express Tribune, July 11th, 2021.
COMMENTS
Comments are moderated and generally will be posted if they are on-topic and not abusive.
For more information, please see our Comments FAQ