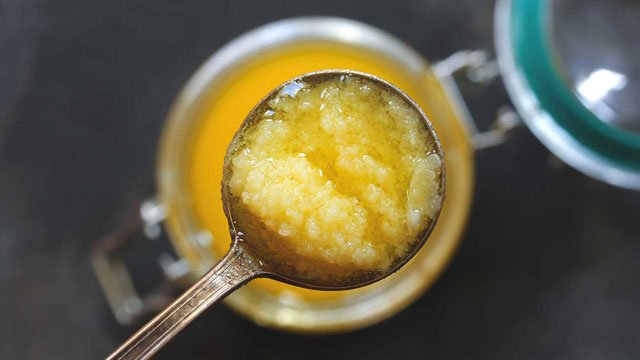 ---
ISLAMABAD/LAHORE:
A sharp increase has been witnessed in the prices of sugar, ghee, and edible oil, amid high inflationary pressure and rise in demand as people prepare for the holy festival of Eidul Azha.
According to sources, various companies have jacked up the prices of edible oil and ghee. Elaborating, they said that Rs38 was the increase witnessed in "first-class ghee" price, raising its per kilogramme rate from Rs305 to Rs343.
Moreover, "second class ghee" has witnessed a Rs15 per kilo increase. Its packet is now being sold at Rs285/kg as compared to its previous price of Rs270/kg.
Last month, the Pakistan Vanaspati Manufacturers Association (PVMA) had written a letter to Prime Minister Imran Khan and Finance Minister Shuakat Tarin informing them that amid high inflationary pressure, the prices of edible oil would increase by Rs13 to Rs18 per kg from July 1. The reason for the increase in edible oil prices were touted as the "new taxes" in the Finance Bill 2021-22.
The PVMA's proposals were also presented to the finance committee, which had directed the association to resolve the matter with finance ministry officials. However, the PVMA's meeting with the finance secretary proved to be of no avail, compelling the association to write a letter to the prime minister and finance minister.
Read more: Inflation in FY21 exceeds expectations
Sources added that the sugar price has also been increased from Rs94/kg to Rs100/kg in wholesale markets. They claimed that the five-kilogramme sack of sugar was being sold at Rs500 as compared to its previous price of Rs470.
They blamed the fiscal year budget for the sudden increase in the rates of basic commodities that sailed through the National Assembly last month despite the opposition's tall claims.
In addition to this, a further increase might be witnessed in sugar prices in the coming days. The Federal Board of Revenue (FBR) has abolished the valuation of Rs60/kg for sales tax on local sugar and $725 per metric ton for the imported sugar.
The tax regulatory authority has cancelled the 2016 notification, 812(i)2016, which provided concession on sales tax for sugar, according to notification number 895(i)/2021 issued by the FBR.
After the official handout, sales tax on sugar would be taken on market price instead of the usual Rs60/kg. FBR officials said that from now on sales tax would be taken on the imported price instead of the $725 per metric ton set for the imported sugar previously.
COMMENTS
Comments are moderated and generally will be posted if they are on-topic and not abusive.
For more information, please see our Comments FAQ