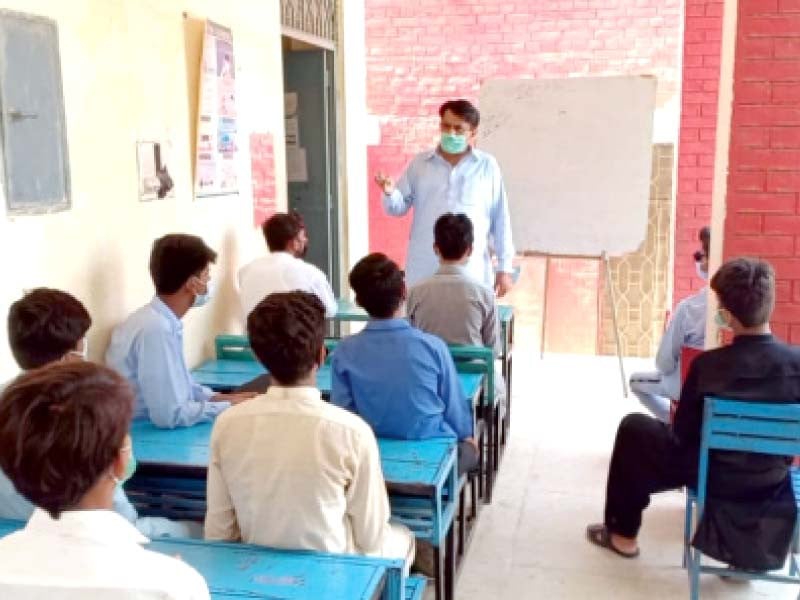 ---
LODHRAN:
Teachers and students in a large number of schools across Punjab have been waiting for science laboratories for over a year.
The Punjab government has given high school status to 1,227 middle schools in the 36 districts of Punjab, including 13 in Lodhran.
However, no new teachers have been recruited in the schools, neither have classrooms, laboratories and computer labs been set up.
Parents of the students in the schools are worried because of the lack of basic facilities, while others are enrolling their children in private institutions.
A high school requires at least five new teachers, including those of science subjects, but the recruitment process has not been mentioned in the new Punjab budget.
Read 40% govt schools lack playgrounds
The upgraded schools also lack classrooms for and 9th and 10th grades, as well as examination halls.
Hundreds of students of higher classes sit in the corridors and are taught by teachers not appointed for the purpose.
The school administrators fear that they may be held responsible for unsatisfactory results of the students despite the non-appointment of teachers.
Speaking to The Express Tribune, senior lawyer Muhammad Tufail Thakur and social activist Sheikh Tahiruddin said the Punjab chief minister should order measures for providing funds and staff to the upgraded schools at the earliest.
According to local officials, 13 schools of Lodhran district are part of the upgrade d scheme. The schools are located in Dunyapur Chak 9MPR, WB 344, Dola Arain, 313WB, 346WB, 372WB, 11M, near Kahror Paka Railway Station, Bahawalgarh, Lodhran's Faizabad locality, Blaimabad Pagalwari and Basti Salamat Rai.
Published in The Express Tribune, July 6th, 2021.
COMMENTS
Comments are moderated and generally will be posted if they are on-topic and not abusive.
For more information, please see our Comments FAQ