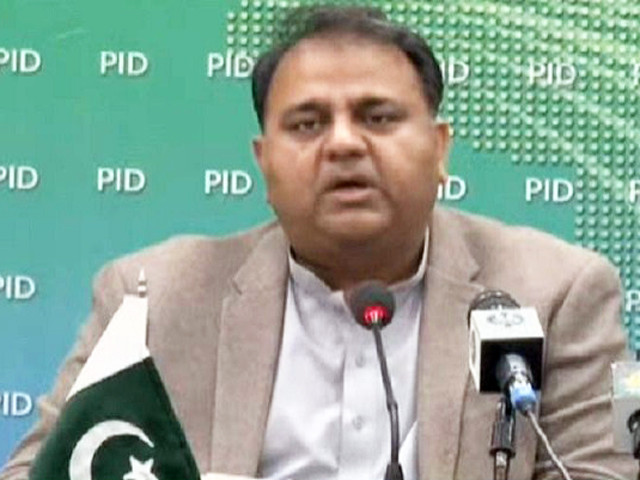 ---
ISLAMABAD:
Information and Broadcasting Minister Fawad Chaudhry on Saturday said the National Accountability Bureau (NAB) had recovered Rs33 billion in the fake accounts case involving former president Asif Ali Zardari.
"With such a recovery, the volume of corruption in the country could be gauged easily as how the past rulers had looted the country and Sindh [in particular]," Fawad wrote on Twitter.
"The actual volume of corruption in the fake accounts case was whopping Rs5,000 billion," he added.
آصف زرداری کے جعلی اکاؤنٹس کیس میں اب تک نیب 33 ارب روپیہ وصول کر چکی ہے اور یہ تقریباً 200 ملین ڈالر بنتے ہیں اصل مقدمہ 5000 ارب روپے کے لگ بھگ ہے اس وصولی سے آپ اندازہ لگا لیں کے اس ملک میں کرپشن کی کیا سطح رہی ہے اور حکمرانوں نے سندہ اور پاکستان کو کیسے لوٹا ہے

— Ch Fawad Hussain (@fawadchaudhry) July 3, 2021
Last month, the minister had launched an attack at the PPP-led Sindh government, calling for monitoring of the funds provided to the provincial government while alleging that these funds are laundered to foreign countries including the UAE and Canada.
"Billions of rupees were allocated for Badin and Larkana [districts of Sindh] but no one knows where that money went. The funds provided to Sindh are sent abroad either through boats or fake bank accounts," Fawad said during his visit to the Karachi Press Club.
Also read: NAB files fifth reference against Zardari
"The money that is given to Sindh ultimately lands in foreign bank accounts. That is why we want to monitor the funds provided to the Sindh government," he added.
Referring to an observation by the chief justice of Pakistan on the Sindh government's performance, Fawad said Chief Minister Murad Ali Shah should resign after these remarks.
He once again urged Chief Justice Gulzar Ahmed to ask the Sindh government to implement Article 140 of the Constitution which calls for devolving power to the local governments.
In September 2020, an accountability court in Islamabad indicted the PPP co-chairperson, his sister Faryal Talpur and other accused in the mega-money laundering reference pertaining to the fake accounts case.
Zardari is facing multiple corruption cases that had stemmed from a mega-money laundering scandal, which came into limelight in 2018.
The former president, Faryal and several of their business associates are being probed as part of a 2015 case regarding fake accounts and fictitious transactions — which were initially found to have totalled Rs35 billion — conducted through 29 'benami' accounts.
(With input from APP)
COMMENTS (1)
Comments are moderated and generally will be posted if they are on-topic and not abusive.
For more information, please see our Comments FAQ