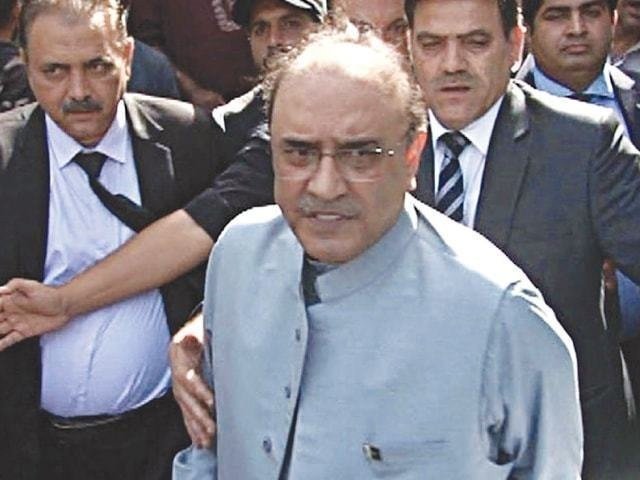 ---
ISLAMABAD:
The National Accountability Bureau (NAB) has filed the fifth reference against former president Asif Ali Zardari as a consequence of its probe into a multi-billion rupees fake accounts case.
The reference, submitted to the administrative judge of the accountability courts in Islamabad, is related to shady transactions with regard to purchase of a house in the Clifton area of Karachi and it also nominates Mushtaq Ahmed, Zardari's former stenographer, as the second accused.
According to the reference, the stenographer opened a joint account in Summit Bank with Zaid Malik, another accused in the fake accounts case who later struck a plea bargain deal with NAB and thus was not included in the reference as accused.
NAB said Mushtaq remained Zardari's stenographer from 2009 till 2013 – roughly the tenure of the latter's presidency – and his financial profile did not match with the magnitude of transactions made through the joint account.
The reference said during investigation, it transpired that Rs150m were paid from the joint account to one Ahmed Abdul Bari to purchase House No F-32, Block 4, Clifton, Karachi. The house was later transferred in the name of Zardari.
"[This] proves that the accused No 2 [Mushtaq Ahmed] was a benamidar of the accused No 1 [Zardari] in the said joint account," it said.
The reference said Zardari failed to provide any justification for the acceptance of an amount of Rs150m, which "proves" that the amount received through "complicated, circuitous and devious route" -- by using Zain Malik and Mushtaq Ahmed -- was the same used in purchasing the house.
Also read: PTI govt hints at reopening Swiss accounts case against Zardari
"It is pertinent to mention that in the conveyance deed of the property, the mode of payment has been mentioned as cash whereas the payment was made through 18 cheques issued from the joint account."
NAB said Zardari in his wealth statement as well as documents submitted to the Election Commission of Pakistan (ECP) also "dishonestly and falsely" declared the cost of the house to be Rs53.3m.
"This was done to conceal the true value of the property which was acquired illegally without consideration and he also reduced the value of the property to launder the illegitimate money acquired as a consequence of corruption and corrupt practices," the reference said.
The stenographer accompanied the PPP leader in 104 of his foreign trips. NAB said both Zardari and his steno have mentioned House No 8, Sector F-8/4, Islamabad as their temporary residence.
The top graft buster claimed that it had sent a questionnaire to the PPP leader with regard to his Clifton residence but he did not respond to the questions. When NAB tried to interrogate the stenographer, he fled, it said.
COMMENTS
Comments are moderated and generally will be posted if they are on-topic and not abusive.
For more information, please see our Comments FAQ