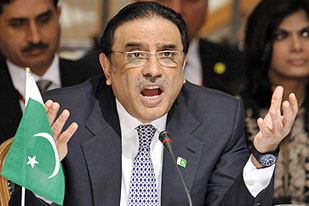 ---
ISLAMABAD:
Federal Minister for Science and Techonology Fawad Chauhdhry has said that the federal government is mulling to reopen infamous Swiss accounts case dated back to 1990s against PPP leaders including co-chairman Asif Ali Zardari.
"Asif Zardari was acquitted in Swiss accounts case because NAB officials at that time said that they did not have original record of the case documents which was an utter lie," Fawad said while addressing a press conference in Islamabad on Thursday.
He said the chairman of Broadsheet inquiry commission former apex court judge Azmat Saeed Sheikh has recovered the original record of the case.
The federal minister also said the government's legal team is reviewing the record and subsequently, it will take a final decision regarding reopening the case.
He also accused former officials of the National Accountability Bureau (NAB) of deliberately misplacing the record of the case in a bid to protect the PPP leader and other accused.
Earlier in the day, the federal government made public the report of the Broadsheet commission, which holds the bureaucracy responsible for attempts to conceal the evidence.
On March 22, the one-man commission headed by Justice (retd) Sheikh Azmat completed its investigation into the payment made to the firm, revealing that the record of money transfer worth $1.5 million paid "inadvertently" to a company in 2008 was missing.
Fawad in the media briefing said the federal government has approved criminal proceedings against five persons, including former Pakistan High Commissioner Abdul Basit, over their alleged involvement in the suspicious transaction.
Covid vaccine
On government's strategy to deal with the coronavirus pandemic, Fawad said the price of Chinese one-dose CanSino vaccine has been fixed at Rs4,225 for commercial sale imported by the private sector.
He said the government will vaccinate 98 per cent population free of charge. "Only 2 per cent people who do not want to queue up to receive the vaccine will be vaccinated by the private sector," he added.
However, the minister said the price of maximum sale price of Sputnik V Russian vaccine will be fixed after the court's decision.
COMMENTS
Comments are moderated and generally will be posted if they are on-topic and not abusive.
For more information, please see our Comments FAQ