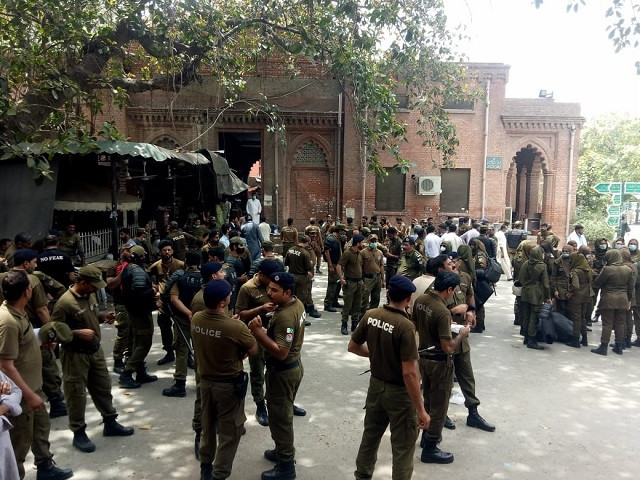 ---
LAHORE:
The chief of the proscribed Tehreek-e-Labbaik Pakistan (TLP), Saad Rizvi, was produced in the Lahore High Court (LHC) on Friday by authorities seeking further detention.
A three-member bench heard the review appeal for further detention of the TLP chief.
Read: In review plea against ban, TLP accuses govt of 'deceit
According to reports, hundreds of policemen have been deployed at the provincial high court and the area has been cordoned off pending a verdict on the appeal by the LHC.
Saad Rizvi is the son of the firebrand cleric, and previous head of the TLP, Khadim Hussain Rizvi, who died in November last year.
His arrest came a day after TLP's central council warned the government that if it did not expel the French ambassador from the country, they would march towards Islamabad.
The banned outfit called off its violent protests after the federal government tabled a resolution in parliament to debate the French ambassador's expulsion.
Read more: Body formed to review legal aspects of TLP's plea
However, the government decided against lifting the ban on the TLP it had imposed for the group staging violence across the country for almost a week.
Nor would it withdraw the cases registered against the banned outfit's activists for murdering policemen.
COMMENTS
Comments are moderated and generally will be posted if they are on-topic and not abusive.
For more information, please see our Comments FAQ