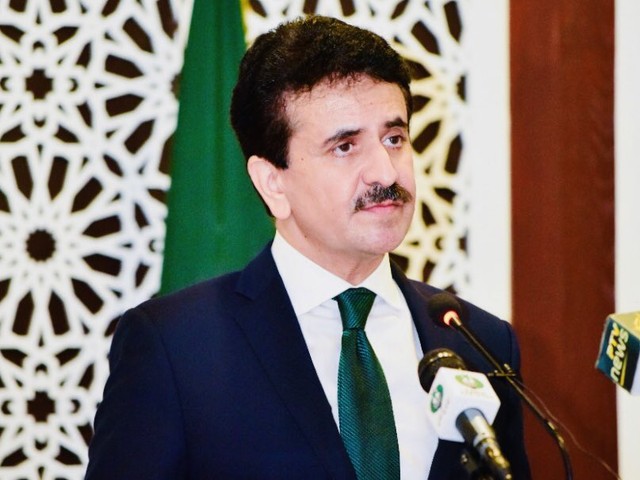 ---
ISLAMABAD:
Pakistan has termed any insinuation that its participation in Sea Breeze 2021 multilateral exercise hosted by Ukraine is a shift in its policy towards Israel or on an important foreign policy issue is baseless and unwarranted.
"Sea Breeze 2021 is a multilateral exercise participated by over 30 countries," Foreign Office spokesperson Zahid Hafeez Chaudhri told a weekly news briefing on Thursday.
"As reiterated earlier, there is no change in Pakistan's principled position," said Chaudhri. "Pakistan has consistently called for a two-state solution, with pre-1967 borders and Al-Quds Al-Sharif as the capital of Palestinian state."
Regarding the participation in the naval exercise, the spokesperson said, "Our Defence Attache is participating as an observer in Sea Breeze 2021, keeping in perspective our defence ties with the host.
"It may be recalled that Ukraine had also participated in AMAN-2021, hosted by Pakistan Navy earlier this year."
As for the alleged visit by special assistant to the prime minister to Israel, the spokesperson said, "We have already issued a detailed statement. Let me reiterate that no such visit from Pakistan did take place."
On foreign policy, Chaudhri said, "With a foreign policy being one of friendliness and goodwill towards all nations, we believe that our relationship with China is not an impediment to its relations with other countries.
"We want close cooperative relation with all others. We desire close cooperative relations with the US. We want to broaden the scope of these relations, particularly in the areas of trade and investment."
In response to a question, Chaudhri said, "We have convergence with the US on a number of issues, particularly the Afghan peace process. Close cooperation between Pakistan and the US has contributed to the progress achieved in the Afghan peace process so far," he said.
The Foreign Office spokesperson, in response to another question, said he did not agree that Pakistan-US relationship was deteriorating.
"The two sides remain committed to maintain close coordination on all matters of common interest. The two sides also continue to work closely on the Afghan peace process," he maintained.
On the statement of Prime Minister Imran Khan with regard to relations with China, the spokesperson said Pakistan had close cooperative relations with China, adding that the two countries have an all-weather strategic cooperative partnership nurtured over decades.
"The China-Pakistan Economic Corridor (CPEC) has taken this relationship to new heights. It has contributed significantly to the development of port, roads and energy infrastructure in Pakistan," he added.
"CPEC has now entered the second phase with focus on industrial cooperation, trade, agriculture and socio-economic development," he mentioned.
(With additional input from news desk)
COMMENTS
Comments are moderated and generally will be posted if they are on-topic and not abusive.
For more information, please see our Comments FAQ