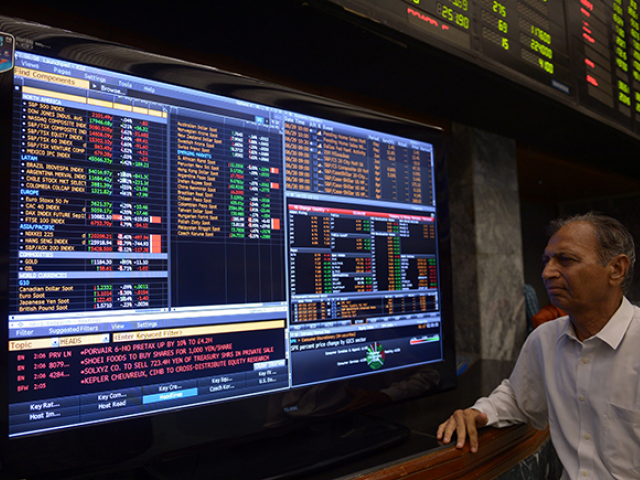 ---
KARACHI:
Taking cue from the government's business-friendly policies, low interest rate and economic turnaround in fiscal year 2021, the Pakistan Stock Exchange (PSX) exhibited a seven-year high performance as it gave a return of 38% on investment in shares in the year ended Wednesday.
PSX's benchmark KSE 100 Index increased 38% (or up by 12,934 points) during the year and closed at 47,356 points. In US dollar terms, the market offered a return of 46.22% in FY21.
The market is expected to maintain the growth momentum in the new fiscal year 2022 starting on Thursday (today) following a cut of 2.5% in capital gains tax (CGT) on sale of shares to 12.5% with effect from July 1 compared to 15% since FY17.
More importantly, the government's pro-growth policy, as it targets an economic growth of 4.8% in FY22, and low interest rate scenario would keep investors making risky investment in shares on the chance of getting a high return.
Read: PSX winds up FY21 on positive note
The benchmark index would hit a new all-time high of 55,000 points by end of December 2021, Pak-Kuwait Investment Company (PKIC) Head of Research Samiullah Tariq estimated after the government proposed 2.5% cut in CGT in the federal budget presented in the national assembly on June 11.
However, there are some new developments in the offing, which may impact the potential new investment thesis. The MSCI announcement to downgrade PSX to Frontier Markets from Emerging Markets in its November review, political tension between Pak-US diplomatic ties, a few months delay in the International Monetary Fund's (IMF) sixth review of Pakistan's economy under its ongoing $6 billion loan programme and maintaining of Pakistan in FATF grey-list despite high point scoring on compliance in international financial transactions to and from the country may affect the market, according to Topline Research.
Average traded volume attained the highest ever level at 528 million shares in FY21 (up by 169% from 196 million shares in FY20) while average traded value during the year went up by 163% year-on-year basis to $120 million, highest after FY17 ($146 million), AHL Head of Research Tahir Abbas said in a commentary.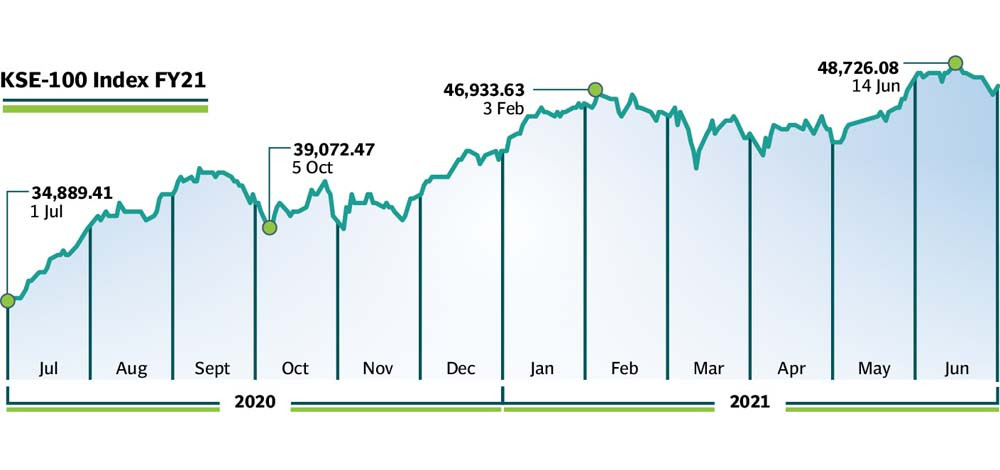 He said the market sentiment was tested several times during FY21, including political unrest witnessed amid alliance of opposition parties under the banner of Pakistan Democratic Movement (PDM) in the lead up to the Senate elections (March 2021) and re-emergence of Covid-19 waves II (October 2-20) and III (February 2021). "Albeit, economic revival remained a key theme throughout FY21, aiding the bullish climate at the index."
"Significant cut in the benchmark policy rate (by 625bps to 7%) at the beginning of the year, and lower yields on fixed income instruments rendered equities as the preferred asset class during the year," he said.
Notable improvement was witnessed in macros; support from global lenders, launch of the Roshan Digital Account (RDA) and robust remittances growth aided the influx of foreign exchange reserves, whereas global lockdowns and the ensuing reduction in trade deficit (current account surplus of $153 million in 11-month of FY21), further supported an appreciation in the Pak rupee against the greenback and at PSX as well.
Read more: PSX reports loss on FATF concerns
The government and State Bank of Pakistan provided stimulus to the construction sector in the form of amnesty, which spurred a rally at the bourse in cyclicals. Strong corporate profitability trends were also witnessed which aided the bullish spree.
"Revival in economic growth, healthy off take, stable pricing power, and low borrowing rates translated into robust earnings jump in cement, steel and automobile sectors during 9MFY21."
PSX maintain uptrend amid Islamabad resuming the $6 billion extended fund facility (EFF) with the IMF after reaching an agreement on reforms during February 2021.
On the Covid-19 front, Pakistan fared better than other regional economies as the government's successful implementation of a micro-lockdown strategy to target areas / cities with a high infection ratio, helped flatten the corona curve without disrupting domestic industries. Albeit, foreign outflow from equities during the year settled at $384 million, highest after FY17 (-$652 million)," he said.
Published in The Express Tribune, July 1st, 2021.
Like Business on Facebook, follow @TribuneBiz on Twitter to stay informed and join in the conversation.
COMMENTS (1)
Comments are moderated and generally will be posted if they are on-topic and not abusive.
For more information, please see our Comments FAQ