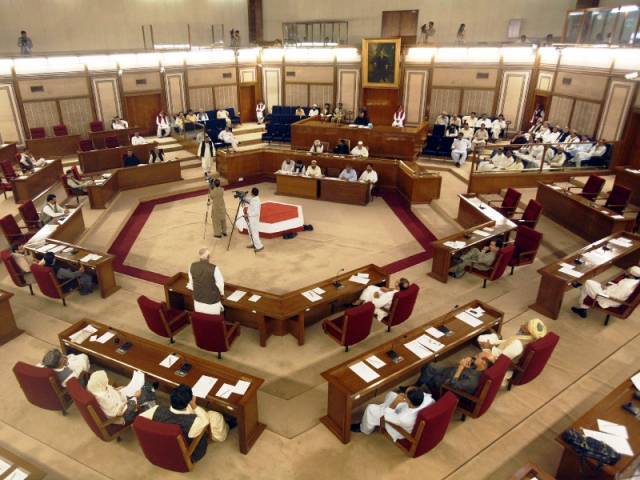 ---
QUETTA:
The Balochistan opposition lawmakers on Monday submitted a requisition in the Assembly Secretariat to convene a session of the assembly to discuss mayhem on the budget day.
At least 19 MPAs of the opposition signed the application requesting Balochistan Speaker Abdul Quddos Bizenjo to convene the session, stating the right of the opposition lawmakers had been violated by crushing them through an armoured vehicle.
The requisition was signed by the lawmakers, including Opposition Leader in Balochistan Assembly Advocate Malik Sikandar Khan, Malik Naseer Shahwani, Nasrullah Zairay, Akbar Mengal, Maulvi Noorullah, Younis Aziz Zehri, Mir Hamal Kalmati, Haji Nawaz Kakar, Ahmad Nawaz Baloch, Akhtar Hussain Langau, Zabid Ali Reki, Asghar Ali Tareen, Shakila Naveed, Syed Azizullah, Titus Johnson and Zubaida Allah Dad.
Read more: Balochistan journalists boycott assembly proceedings
The lawmakers alleged the government for hatching a plot against the opposition to assassinate them by creating mayhem on the budget day. They also accused the leadership of dividing the resources of the province among the workers of Balochistan Awami Party who were elected "unconstitutionally and illegally". "The government has tagged the funds as the Public Sector Development Programme," the opposition MPAs said in a statement issued on Monday.
Meanwhile, the opposition lawmakers refused to end their sit-in at the Quetta's Bijli police station till the provincial government withdrew the case against them.
The deadlock between the Balochistan government and the opposition MPAs persisted as the protest of lawmakers against the registration of the FIR against them continued for the eighth day.
At least 16 lawmakers of the opposition courted arrest in the police station after the FIR registered against them for creating a riot in the premises of the Balochistan Assembly on the budget day.
However, the police refused to arrest them.
The opposition said the government didn't approach them on Monday, while earlier four rounds of talks between the opposition and government ended without a conclusion.
Published in The Express Tribune, June 29th, 2021.
COMMENTS
Comments are moderated and generally will be posted if they are on-topic and not abusive.
For more information, please see our Comments FAQ