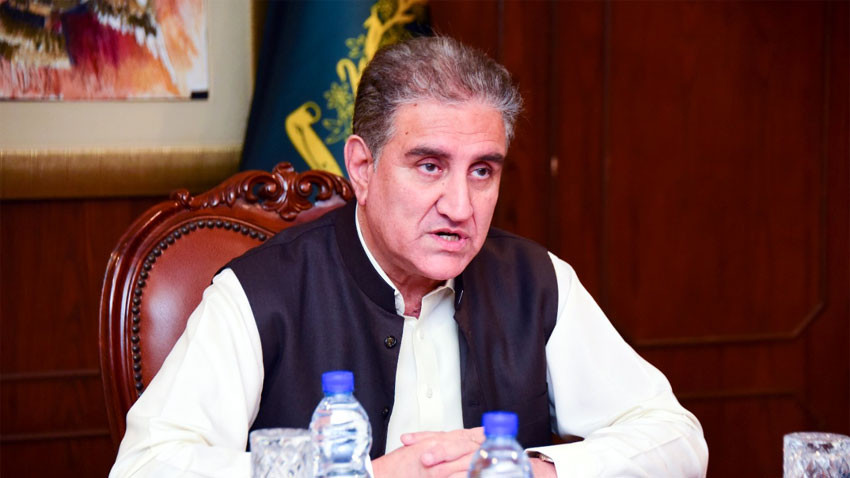 ---
ISLAMABAD:
Foreign Minister Shah Mahmood Qureshi on Friday termed the all parties conference of pro-India Kashmiri politicians convened by Prime Minister Narendra Modi a "public relationing exercise" and an "eyewash" which was a "flop show."
"This was eyewash. Why was it eyewash. At best it can be termed as a public relations exercise. It has achieved nothing," Qureshi told a news conference here, in his reaction to Modi's interaction with Kashmiri political leaders.
Modi chaired a meeting in New Delhi on Thursday attended by 14 politicians from the Indian Illegally Occupied Jammu and Kashmir (IIOJK). It was Modi's first interaction with the region's politicians since his government unilaterally revoked the special status of the IIOJK.
While the APC, where the All Parties Hurriyat Conference (APHC) leaders were not invited, was an eyewash, Qureshi said it was also an admission on the part of New Delhi that its August 5, 2019 actions had backfired.
Read more: 'Committed to restoring statehood', Modi tells IIOJK leaders
The foreign minister referred to the unanimous demand even by pro-India Kashmiri leaders, who demanded full restoration of statehood of IIOJK. He added it was the very reason that those Kashmiri leaders challenged the abrogation of Article 370 before the Supreme Court.
The Kashmiri leaders returned empty handed, despite demanding restoration of Kashmir statehood. The Modi government insisted that it would consider such a move only after delimitation and so-called state elections in the disputed territory.
Qureshi said Modi merely stated that the Kashmir statehood would be restored at an appropriate time. "The mere statement that the statehood would be restored in not the answer to the longstanding problem," he added.
He said contrary to false promises after the abrogation of special status of Kashmir, the situation in the disputed region only got worse. "First, second and even third tear political leaders are in illegal confinement," he said.
He added even pro-India Kashmir leaders demanded the release of all political prisoners, protection of fundamental rights, end to the extrajudicial killings and full restoration of statehood.
"This is not what Pakistan is saying. This is the demand of Kashmiris and those Kashmiris who were in the past hand in glove with New Delhi," he said. "This is the level of alienation India has been facing in the held territory," he added.
"In my opinion, the APC was a total flop," Qureshi said. He went on to add that Kashmiris were not ready to accept the changes New Delhi forcefully imposed on them.
Answering a question, Qureshi said that Pakistan had forcefully raised the issue of Kashmir and changes brought by the Modi government at all international forums, including the UN. The issue was also regularly taken in bilateral engagements with influential countries, he said.
"There is no change in Pakistan's nuclear policy," Qureshi said, when asked whether Pakistan was contemplating any change after Prime Minister Imran Khan in a recent interview stated that Islamabad would need no nuclear weapons if Kashmiri dispute is resolved.
On the current situation in Afghanistan, Qureshi said he had not heard any proposal for deployment of a UN peacekeeping force to maintain peace in Afghanistan. When asked about the role of Turkey in providing security for the Kabul airport, he said it was too early to say at this stage on this issue.
COMMENTS
Comments are moderated and generally will be posted if they are on-topic and not abusive.
For more information, please see our Comments FAQ