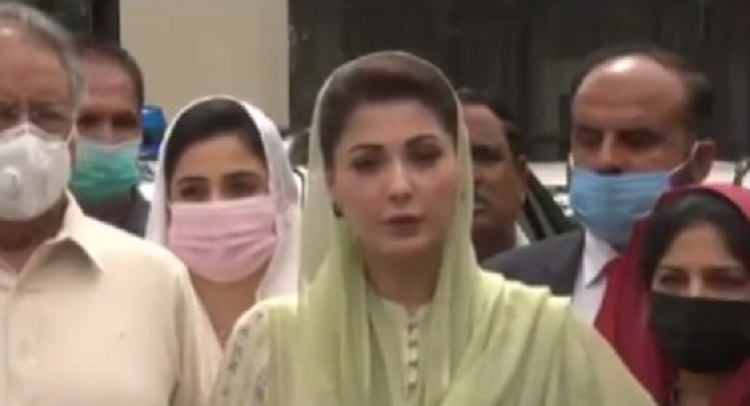 ---
ISLAMABAD:
Criticising Prime Minister Imran Khan's recent statement on women's clothing and rape on Wednesday, Pakistan Muslim League-Nawaz Vice President Maryam Nawaz said linking women's clothing to rape only alluded to the PM's mentality, adding that his words would only encourage the perpetrators.
She further questioned if the young children who were sexually abused were also molested due to their clothes.
The PML-N leader's remarks came ahead of a hearing at the Islamabad High Court (IHC) against the sentences of PML-N supremo, her father, Nawaz Sharif and herself in a National Accountability Bureau reference.
Earlier this week, PM Imran had commented in an interview with Jonathan Swan on HBO -aired on Axios' website on Sunday - that if women would wear very few clothes, it will have an impact on men, leading thousands of netizens to express their anger over the premier's statement on social media.
Swan asked if the PM thinks what women wear has any effect on the temptation that leads to rapes, the PM replied, "If a woman is wearing very few clothes, it will have an impact on the men, unless they're robots. I mean it is common sense."
Confused, Swan rephrased his question, "But is it really going to provoke acts of sexual violence?" Maintaining his stance, PM Imran proceeded to elaborate, "It depends on which society you live in."
He added that: "If in a society people haven't seen that sort of thing, it will have an impact [on them]. Growing up in a society like yours, maybe it won't impact you. This cultural imperialism… Whatever is in our culture must be acceptable to everyone else."
Read Women lawmakers slam PM Imran over his 'few clothes' remarks
Senator Usman Kakar's death
Speaking of the death of Pashtunkhwa Milli Awami Party (PMAP) leader, Senator Usman Kakar, and the claims of it being unnatural, Maryam said that if questions have been raised then there should be a thorough investigation into his death.
Remembering Kakar, Maryam said she found the PkMAP leader to be a knowledgeable person every time she met him at the Pakistan Democratic Movement (PDM)'s meetings.
She further added that if Kakar has been killed so that he could be silenced then that certainly will not be the case, as forceful measures like these only encourage more people to speak up.
PkMAP senior leader and former senator Usman Khan Kakar passed away in Karachi on June 21. Kakar had been undergoing treatment at a private hospital in Sindh's provincial capital for the last three days. He was 60 years old.
According to PkMAP spokesperson Reza Mohammad Reza, Kakar had suffered a brain hemorrhage after receiving an injury at his home in Quetta. He was first rushed to a local hospital where he was admitted to an intensive care unit (ICU).
The preliminary report issued after the autopsy of PkMAP's deceased leader Usman Khan Kakar stated there were no marks of torture or wound on his body and that the cause of his death appeared to be a brain hemorrhage.
The autopsy of the Balochistan leader was conducted at Karachi's Jinnah Postgraduate Medical Centre (JPMC) on the request of his family members. The report, however, clarified that the cause of Kakar's death could be ascertained only after the labs issued complete pathological and chemical reports.
COMMENTS
Comments are moderated and generally will be posted if they are on-topic and not abusive.
For more information, please see our Comments FAQ