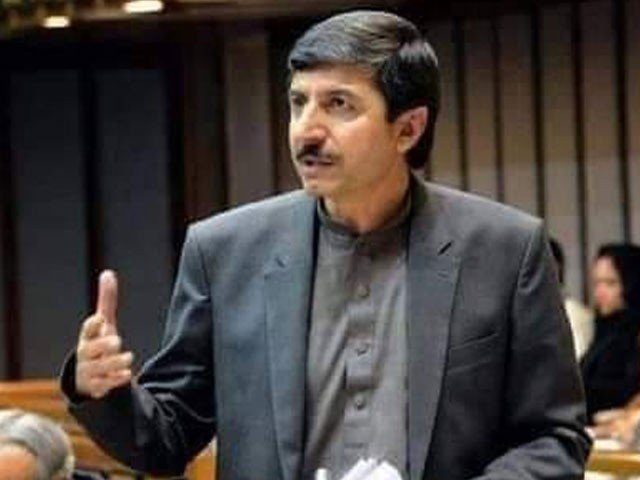 ---
QUETTA:
The preliminary report issued after the autopsy of PkMAP's deceased leader Usman Khan Kakar stated there were no marks of torture or wound on his body and that the cause of his death appeared to be a brain hemorrhage.
The autopsy of the Balochistan leader was conducted at Karachi's Jinnah Postgraduate Medical Centre (JPMC) on the request of his family members. The report, however, clarified that the cause of Kakar's death could be ascertained only after the labs issued complete pathological and chemical reports.
PkMAP senior leader and former senator Usman Khan Kakar passed away in Karachi on Monday. Kakar had been undergoing treatment at a private hospital in Sindh's provincial capital for the last three days. He was 60 years old.
According to PkMAP spokesperson Reza Mohammad Reza, Kakar had suffered a brain hemorrhage after receiving an injury at his home in Quetta. He was first rushed to a local hospital where he was admitted to an intensive care unit (ICU).
Later doctors referred him to a hospital in Karachi due to his precarious conditions. He remained under treatment for four days but could not survive. Kakar's family had demanded his post mortem to probe into the causes of his death
On Tuesday, Balochistan Home Minister Mir Ziaullah Langau and Parliamentary Secretary for Health Dr Rubaba Baledi announced at a press conference that the post-mortem report of Kakar did not prove any violence and that spreading negative news was alarming.
"There is no doubt that Usman Khan Kakar was a resourceful and fearless politician and the voice of the oppressed. In this hour of sorrow, we mourn for Kakar," she said.
Prof Dr Naqibullah Achakzai, one of the doctors who first treated the PkMAP leader in Quetta, also addressed the press briefing.
He clarified that he and his team had never talked about Kakar being hit on the head with a hammer. He said he was told that Kakar had fallen in his bathroom.
During the press conference, Prof Achakzai said he was called by a senior doctor from a nearby hospital at 7:45 pm on June 17 that Usman Khan Kakar had been brought to his hospital in a critical condition and was being informed that he fell in the washroom and was injured.
"They have done the CT scan which shows that Usman Khan Kakar has a blood clot in his head and Usman Kakar's condition is gradually deteriorating," Achakzai quoted the senior doctor as saying.
"I immediately prepared the operating theater and around 8 o'clock Usman Kakar was taken to our hospital where we immediately transferred him to the operating theater," he said.
Dr Achakzai said when Kakar was taken to his hospital, he was vomiting.
"When I saw his condition he was medically 4. Medically the scale of consciousness is from 3 to 15. On coma scale 3 means dead while 15 means normal condition. Kakar's condition was one level above death; his eyelids were also sitting and there was no response but he was breathing.
"The CT scan showed a massive bridge hemorrhage and subhead brain hemorrhage. Before this, an acute subdural hematoma also pressed the brain and shifted it to the other side."
He said even when the level of consciousness is 4 and even if the patient's breathing is restored, it is the duty of the doctors to operate on him as soon as possible. "On this basis, we immediately transferred him to the operating table but in the meantime we gave him drugs," Dr Naqib said.
He said tremors started and a team of senior doctors treated him immediately.
"However, when we shaved a part of his head for the operation, Kakar's head was swollen and injured and he was blind. There was an injury. We heard about the hammer in this regard, but there could be several reasons for such an injury," he said.
"Upon arrival, an extra veil was placed so that the brain could get extra space due to the swelling. That is why we took more time in the operation. The operation started at 8 am and ended at 1:35 am," he said.
"Later, after consultation with the family of Usman Khan Kakar and his party leadership, it was decided to transfer him to City International Hospital where two doctors of Agha Khan Hospital Karachi were present," he said.
Kakar's body also arrived in Quetta on Tuesday evening. He will be laid to rest today at his native town of Muslim Bagh in Qila Saifullah.
[WITH INPUT FROM OUR CORRESPONDENT IN KARACHI]
COMMENTS
Comments are moderated and generally will be posted if they are on-topic and not abusive.
For more information, please see our Comments FAQ