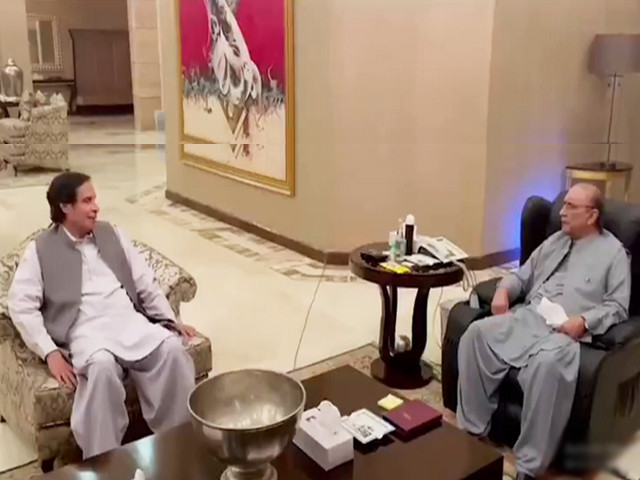 ---
LAHORE:
Punjab Assembly Speaker Chaudhry Pervaiz Elahi of the PML-Q on Tuesday called on PPP Co-Chairperson Asif Ali Zardari at Bilawal House in Lahore to express his gratitude for "agreeing to an unopposed" Senate election in Punjab on his request.
According to a statement issued by PML-Q media cell, Elahi was quoted as saying: "I have come to thank Asif Ali Zardari for his support in the uncontested election of the Senate in Punjab. He added that he wanted to travel to Karachi to meet the former president. However, the PPP leader told him that they would meet when he came to Lahore.
Elahi inquired after the health of Zardari. The current political situation in the country and other issues of mutual interest were discussed during the meeting. Zardari also inquired after the health of PML-Q senior leader and Elahi's cousin, Chaudhry Shujaat Hussain.
Separately, a statement issued by the PPP read that the two leaders had agreed on the need for an independent judiciary and upholding its honour.
Read more: Asif Zardari summoned in money laundering reference on June 29
During the meeting, the two leaders also discussed the political situation in Punjab. Both leaders agreed that an independent judiciary was necessary for democracy and both were inseparable. Respect for judiciary was a vital component of democracy.
On several occasions, the PPP has accused the PML-N of seat adjustment with the PTI for Senate slots in Punjab without taking it on board.
The PPP used this allegation to "expose" the behind the curtain nexus between the PML-N and the PTI.
PPP Information Secretary Faisal Kareem Kundi said the party had indeed agreed to the request after the PML-N and the PTI had decided on a seat adjustment formula.
He said after the two majority parties had decided to divide seats proportionally, the PPP, with its mere seven seats, was not in any position to secure a senate seat.
He said if the PML-N had not agreed to the seat adjustment, the PPP, using its former ally's "20" surplus votes, would have been in a position to lobby for more from other parties to secure a victory.
He said with the PML-N not by its side, the PPP had agreed to the PML-Q's request.
On Elahi's meeting with Zardari, Kundi said there was no specific agenda.
He added that Zardari had earlier in the week contacted the Chaudhry brothers to inquire after the health of Shujaat.
However, it was communicated that as PPP Chairman Bilawal Bhutto had already paid them a visit, so this time they would come and meet Zardari.
Kundi said the two leaders discussed the overall political situation of the country
COMMENTS
Comments are moderated and generally will be posted if they are on-topic and not abusive.
For more information, please see our Comments FAQ