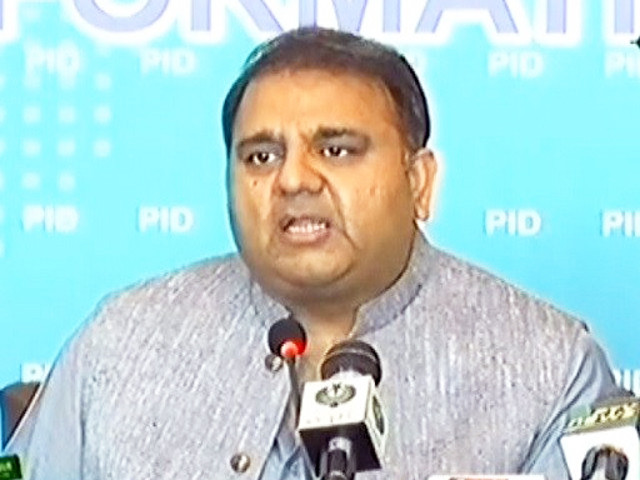 ---
ISLAMABAD:
Federal Minister for Information and Broadcasting Fawad Chaudhry on Saturday lashed out at former premier Nawaz Sharif saying the PML-N president was free to go anywhere provided he returned the "looted wealth".
Addressing a press conference at Skardu Press Club, the information minister maintained that the government wanted to bring the accountability process to a logical conclusion.
"We do not want to keep Nawaz Sharif in jail. He can go anywhere provided he returns the looted wealth."
Fawad regretted over the dilapidated condition of road infrastructure in Gilgit-Baltistan (G-B) saying the previous PML-N government did "nothing" for its rehabilitation despite being in power for a long period of time.
To a question, he said the courts had convicted Nawaz Sharif and Maryam Nawaz in two corruption cases while proceedings against Shehbaz Sharif were in progress.
Nawaz Sharif left for London in November 2019 for medical treatment after he was released on bail from a seven-year sentence in Al-Azizia reference.
Read Opp has non-serious attitude towards electoral reforms: Fawad
In December last, the Islamabad High Court declared the PML-N supremo a proclaimed offender in Avenfield properties and Al-Azizia cases and issued show-cause notices to his guarantors.
Speaking about the development of G-B, Fawad said the federal government allocated a "record" share in the next budget for the region as Prime Minister Imran Khan desired its uplift on par with other parts of the country.
He said the PTI after coming to power in the G-B had announced a development package worth Rs300 billion for the socio-economic development of the area.
"The amount, which will be spent in the next five years, will bring significant improvement in the infrastructure of Gilgit-Baltistan and boost economic activities through the promotion of tourism."
He said the situation in G-B would look like Karachi in the next eight to 10 years if the development work in the region is carried out without proper planning.
He said the completion of CPEC would mark a new era of development and prosperity in G-B as it was situated at critical route of the multi-billion-dollar project.
To another query, he said the electronic voting machines were being developed in the country to ensure transparency and fast compilation of election results, adding the gadgets would also be used in elections of the Parliamentary Reporters Association, press clubs and bar associations.
With input from APP
COMMENTS
Comments are moderated and generally will be posted if they are on-topic and not abusive.
For more information, please see our Comments FAQ