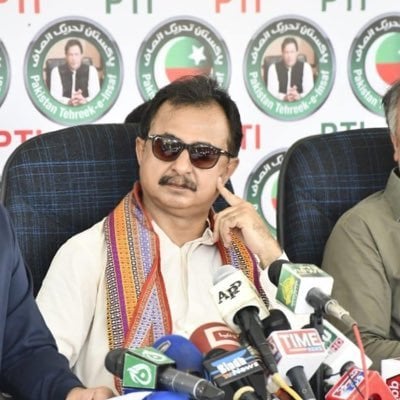 ---
KARACHI:
A special anti-terrorism court (ATC) issued on Saturday notices to the prosecution over accused Sindh Assembly opposition leader Haleem Adil Sheikh's plea filed in the cases pertaining to interference in state affairs during by-election on PS-88 and vandalism during the anti-encroachment operation in Memon Goth.
Haleem and other nominated people in the case, except for Ghualm Ahmed, appeared in the court during a hearing at the Karachi Central Jail.
At the outset of the hearing, Haleem submitted a plea in the court, contending that these cases do not come under the category of terrorism. Instead, these involve political matters therefore a sessions court should conduct hearings on them.
At this, the court issued notices to the prosecution lawyers, seeking their replies on July 12, and adjourned the hearing. It also directed all the accused and IO to ensure their presence on the next hearing.
The Opposition Leader in Sindh Assembly talking to the media persons outside the Anti-Terrorism Court after the hearing, said PPP chairman's comment on the increase in the population of donkeys in the country was immature. "Donkeys have been helpful to mankind since time immemorial so it is very insensible to mock the increase of the useful animals," he observed and asked rulers of Sindh to save people of the province from rabid dogs instead of clapping on the senseless speeches.
The PTI leader said that 26 incidents of the dog-bite in the home district of the PPP chairman in a single day spoke volumes of their callousness towards the people of the province.
Witness summoned
Separately, an ATC directed the witness to appear on the next hearing of the cases, pertaining to anti-state slogans, attack on media houses and terrorism, under any circumstances.
Muttahida Qaumi Movement-Pakistan leaders Amir Khan, Qamar Mansoor, Dr Farooq Sattar and co-accused others appeared in the court.
However, none of the prosecution's witnesses was present at the hearing.
During the hearing, the counsels representing the accused requested the court to order the authorities to provide CDR.
On this, the court issued notices to the parties and adjourned the hearing till July 10, while summoning the witness on the next hearing.
Published in The Express Tribune, June 20h, 2021.
COMMENTS
Comments are moderated and generally will be posted if they are on-topic and not abusive.
For more information, please see our Comments FAQ