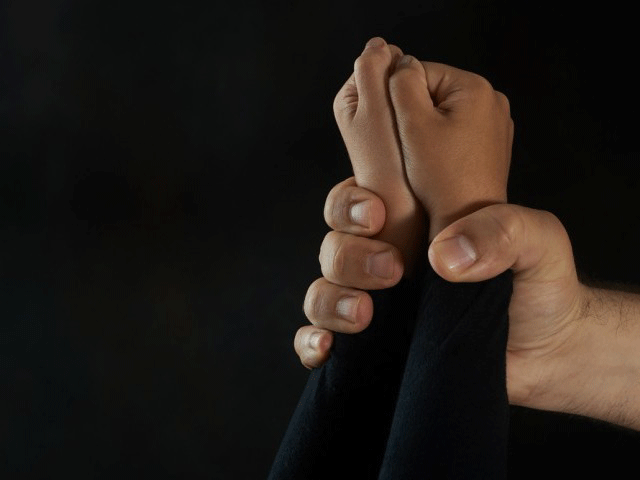 ---
LAHORE:
Child sexual abuse is rampant across the province and the citizens seem to get no respite from the current crime situation.
During the past week in Lahore, at least two cases of violence against children were reported. The first case was reported in Sundar where the body of four-year-old boy named Rehan was recovered from a Darbar Baba Alllaul Din Shah in a village. The victim had left his home to play and went missing.
When the body was recovered, the victim had severe marks of torture on his body.
A few days prior to this incident, another minor met a similar fate in Chung. The victim named Hassan left his home. Later his body was recovered from a drain. Such incidents were continuously being reported.
In January this year, a young boy had molested his younger brother before beating him to death with bricks. The rapist had dumped his brother's body in a drain. Later, it came forth during investigations that the suspect had done the same with his minor cousin. The victim had also gone missing a few years ago under suspicious circumstances and no one knew his whereabouts.
In December last year, a minor girl was found dumped in a drain in Sundar. During investigations it came forth that her cousin had molested her after strangling her to death. Later, he dumped his body in a pond to hide his crime.
Since the 2015 Kasur pornography scandal, the issue of child sexual abuse and violence against children in Pakistan was highlighted both nationally as well as globally.
Read 13 FIRs lodged for child abuse via Zainab app
The Pakistani government, as usual, had made huge claims not only of rehabilitating the minor rape survivors of Hussain Khanwala village. The government also launched a comprehensive strategy to curb the issue of child abuse.
However, with the passage of time, nothing substantial had been done to protect the minor citizens so far. The authorities concerned continued to project their typical attitude of indifference toward children's rights.
After the Kasur scandal, even bigger scandals of heinous crimes against children had come forth.
The Zainab murder case was reported in which a serial killer, over a period of two years, had been sexually assaulting and murdering children right under the nose of police and other law enforcement agencies. The people of Kasur were outraged and came out on the streets to protest and demand justice. However, police still rather than listening to their due demands opened firing. Two innocent lives were lost in the street protests.
Hardly a few months had passed and another pedophile serial killing case was reported in Chunian. The victim families had been approaching police for a long period of time about their missing children but police show indifference. The aggrieved families along with mob had to storm local police station to have their voices heard.
The steps needed to control such sexual abuses were missing. The authorities concerned had done to protect vulnerable children and as a consequence of this, the abuse cases had multiplied and were continuously being reported in various part of the province.
A report compiled by Sahil, a non-governmental organisation working against child sexual abuse, asserted that on average, at least eight children were abused in the country daily.
According to the report, a total number of 2,960 cases were reported in Pakistan of child abuse in 2020. This was an increase of four per cent as compared to 2019. Of these victims, 51% were girls and 49% were boys.
After the Zainab rape cum murder case, the Zainab Alert, Response and Recovery Act 2019 was passed by the government. According to the bill, an authority Zainab Alert Response and Recovery Agency (ZARRA) was to be established on the pattern of Amber Alert to inform public and enforcement agencies and recover a missing child through one window operations.
Since then, countless children faced violence of many forms. The ZARRA authority was yet to be launched.
Besides this, the other promises made by the government, time and again, for the betterment of children were yet to be initiated.
Published in The Express Tribune, June 20h, 2021.
COMMENTS (1)
Comments are moderated and generally will be posted if they are on-topic and not abusive.
For more information, please see our Comments FAQ