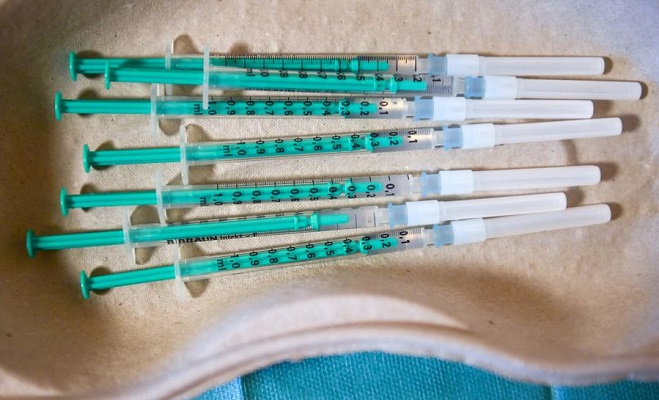 ---
ISLAMABAD:
The government has entered into an agreement with China for the purchase of 27.5 million Covid-19 vaccine doses in the form of prepared jabs as well as raw materials to step up the ongoing nationwide vaccination drive in the country.
The National Institute of Health (NIH) said that the purchased vaccines included Sinopharm, CanSino and SinoVac. It added that the vaccine doses would be provided to the country in phases by December this year.
The NIH said that the purchase agreement included 23 million doses of Sinopharm; 2 million ready-made vaccines and raw material from CanSino and 2.5 million doses of Sinovac.
The government has stepped up the vaccination drive in the wake of a third wave of coronavirus pandemic in the month of March and April. Since the advent of June, the number of cases had been on constant decline, indicating that the third wave might have ended.
The National Command and Operation Centre (NCOC), which serves as the nerve centre of the government's nationwide effort to curb the pandemic spread, said in its daily update of the disease on Thursday that the national tally of active Covid-19 cases had fallen to 36,215.
It said that 1,119 more people tested positive for the virus while 2,763 people recovered from the disease during the last 24 hours, adding that 2,494 patients were under treatment in critical care in various Covid dedicated healthcare facilities. The Covid positivity rate remained 3%.
Read more: Probe opened into issuing Covid vaccination certificates without jabs
According to the update, 46 patients, 40 of whom were under treatment in hospitals, including 18 on ventilators, died during the past 24 hours. Most of the deaths, the NCOC added, occurred in Punjab, followed by Sindh.
As of Thursday, the national caseload of the disease reached 945,184, while 887,095 people have made full recovery. The nationwide death toll stood at 21,874. So far, the NCOC said 13,971,689 had been conducted.
(WITH INPUT FROM APP)