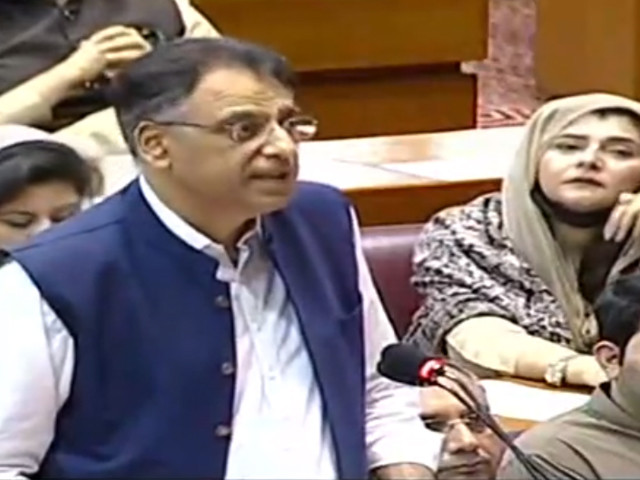 ---
Criticising the previous government in the lower house of parliament, Planning Minister Asad Umar has said that the Pakistan Muslim League-Nawaz (PML-N) left the country's economy in shambles and Pakistan was on verge of becoming a "beggar state".
He remarked while responding to PML-N President and Opposition Leader in the National Assembly Shehbaz Sharif's budget speech wherein he lashed out at the PTI-led government accusing it of destroying the country's economy and people's livelihood.
The leader of the opposition in NA said that the 66-page budget speech was made (by the finance minister) and every page mentioned inflation, poverty and misery.
"Everyone saw what happened in the country during the last three years. We think that if pockets of the poor people are empty, then the budget is fake," Shehbaz said.
"The PML-N prepared the ground to make the country a beggar [state].. due to the flawed economic policies it destroyed the country's economy," Umar said while addressing the NA session on Thursday.
Also read: Shehbaz criticises budget as calm returns to NA
The federal minister said when the PTI came into power in 2018 the country's foreign exchange reserves were at their lowest level with a huge current account deficit.
He said Prime Minister Imran Khan during his initial days in the government took tough decisions for the betterment of the country. "We fixed the destruction caused by you [PML-N]."
On Covid-19, Umar said the PTI's government policies to maintain the balance between lives and livelihood during the coronavirus lockdown were appreciated across the world.
He said the Indian economy contracted 7 per cent whereas Pakistan's economy was growing at 4 per cent during the Covid crisis. "If India had implemented the same policies as Pakistan, it could have saved thousands of lives."
Umar also urged Shehbaz to ask his brother and former premier Nawaz Sharif, who is in Britain for medical purposes, to return to Pakistan. "I wish the PML-N could have built a single hospital where its leader [Nawaz] could be treated."
COMMENTS
Comments are moderated and generally will be posted if they are on-topic and not abusive.
For more information, please see our Comments FAQ