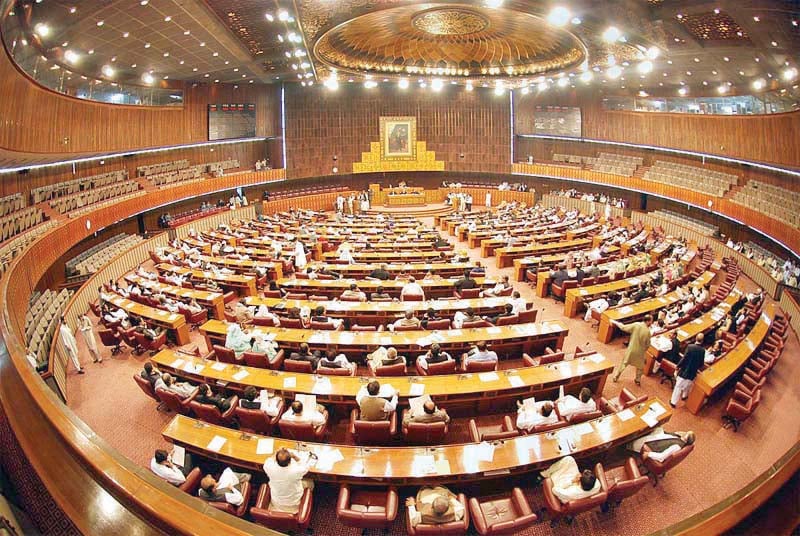 ---
ISLAMABAD:
Pakistan Tehreek-e-Insaf (PTI) women parliamentarians on Wednesday severely criticised Pakistan Muslim League (PML-N) members of National Assembly, demanding the suspension of their membership for resorting to hooliganism and using abusive language against the treasury members.
Addressing a press conference at the Parliament House, Minister of State for Climate Change Zartaj Gul Wazir said the PML-N should "mend its ways" and keep the sanctity and respect of parliament intact.
Zartaj said National Assembly speaker should take notice of Tuesday's disorder in the lower house, adding that the PML-N parliamentarians should tender an apology for insulting women parliamentarians of the treasury benches.
She said PML-N was no longer a political party and had become an "encroachment mafia".
"PML-N parliamentarians staged a pre-planned drama and it seems that no one especially women legislaors are safe to sit in parliament," she said.
Read PML-N leader calls expletives hurled in NA 'a part of Punjab's culture'
"They (PML-N) have made a routine of using abusive language and character assassination of women colleagues. They should be ashamed of their attitude."
Zartaj said the federal government under the leadership of Prime Minister Imran Khan had presented the "best budget" for the next fiscal year in which "special relief" had been proposed for the vulnerable segment of society.
"It is quite unfortunate that the N-League and its rude members were not digesting the positive and people-friendly decisions of the government."
Zartaj maintained that the opposition was criticising the budget for the sake of criticism saying "they have not even gone through the relevant budget documents".
She said the PML-N members crossed all limits and did not even spare the women legislators.
"These socially illiterate goons of the PML-N should avoid negativity and instead play their due role in enhancing respect and honour of the House."
With input from APP
COMMENTS
Comments are moderated and generally will be posted if they are on-topic and not abusive.
For more information, please see our Comments FAQ