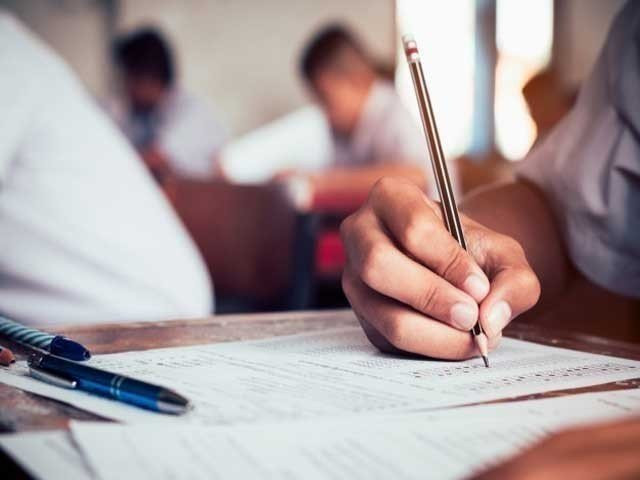 ---
KARACHI:
The Sindh Education Department's steering committee decided to hold examination for Grade IX and Intermediate Part I in the months of July and August.
The decision was taken on Wednesday during the committee meeting which was headed by Sindh Education Minister Saeed Ghani.
The meeting approved the minutes of the previous moot and discussed dates for examination of Grade-9 and Intermediate Part-I. It was stated that the examination of the mentioned classes would be conducted in July and immediately after that the Grade X and Intermediate part II examinations to be conducted in the month of August.
It was also agreed in the meeting that the examinations would be solely conducted for elective subjects.
The committee stated that practical examinations for both matric and intermediate would be carried out in theory examinations in the respective schools and colleges.
Read more: Protest against in-person exams turns violent
Also, it was agreed that the results of grades 10 and 12 would be announced in the first phase after 45 days of examinations. Meanwhile, the results of grades 9 and 11 would be announced after the results of the previous two classes.
Furthermore, keeping this year's situation in view, committee members decided students who could not appear for grades 9 and 10 examinations in 2020 would be promoted to the examination for grades 10 and 11 with passing marks in case anyone fails elective subjects.
Ghani said that three proposals had been received for examinations for grades one through eight. He said the priority was to promote only classes one to four, six and eight, while the rest would be assessed.
The committee decided to conduct examination of all classes from grades one to eight in the respective schools. Regarding summer vacations in Sindh, the meeting's decision was not to allow the holidays unless the time of year was extremely hot.
According to Ghani, the department had to make certain unfavourable decisions due to the coronavirus pandemic.
He added the academic process for pre-primary and primary classes would start from June 21, but the department would have to shut educational institutions in case the situation worsens.