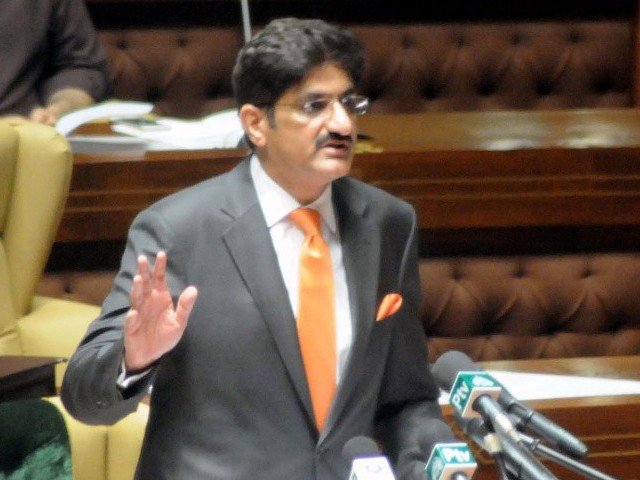 ---
KARACHI:
Sindh Chief Minister Murad Ali Shah announced in Wednesday's post-budget speech that the government had created 30,000 jobs in various government departments.
"We have created 2,600 new vacancies, apart from the 30,000 positions in the province," he stated. The CM revealed the departments have started issuing advertisements to fill the vacant spots this year.
Karachi package
From the outset of the press conference, the Sindh chief minister spoke about the Karachi package and responded to media criticism which claimed the city was neglected.
He stated Rs990 billion worth of development projects were at different stages and another allocation of Rs110 billion had been earmarked for fresh initiatives.
"Certain people are making baseless claims that Karachi has been ignored in terms of allocation for development schemes." Speaking at the auditorium of the Sindh Assembly, Shah pointed out that Rs110 billion had been allocated for the completion of ongoing and new development schemes.
Read more: Sindh unveils Rs1.4tr tax-free budget
He said that another Rs3 trillion were required for the development of the metrop[1]olis, but the provincial government lacked the funds to meet this goal.
However, he did mention city-centric projects such as widening Shahrah-e-Faisal, Tariq Road, University Road, Madinatul Hikmat Road, Shahrah-e-Quaideen and Hawkesbay Road.
He also spoke of the construction of a large number of flyovers and underpasses that have been completed by his government.
Modern Zulfikarabad
Talking about the Zulfikarabad modern city project, Shah said the initiative was still in the works and had not been abandoned. He said much criticism had been leveled against the state-of-the[1]art city, for which around 60,000 acres of land was identified in 2010.
Minimum wage
Referring to the increase of government employee salaries, the CM said this figure had been increased by 20 percent.
At the same time, minimum wage was raised from Rs17,500 to Rs25,000. "It will be ensured that minimum wage will be paid in the private sector.
" He admitted that government salaries of employees from Basic Pay Scales I to V were less than Rs25,000 and their pay would match mini[1]mum wage through supplementary grants.
IRSA vs Sindh
Talking about the Indus River System Authority, he said the body was unable to perform its main function of distributing water according to the 1991 accord, due to pressure from the federal government.