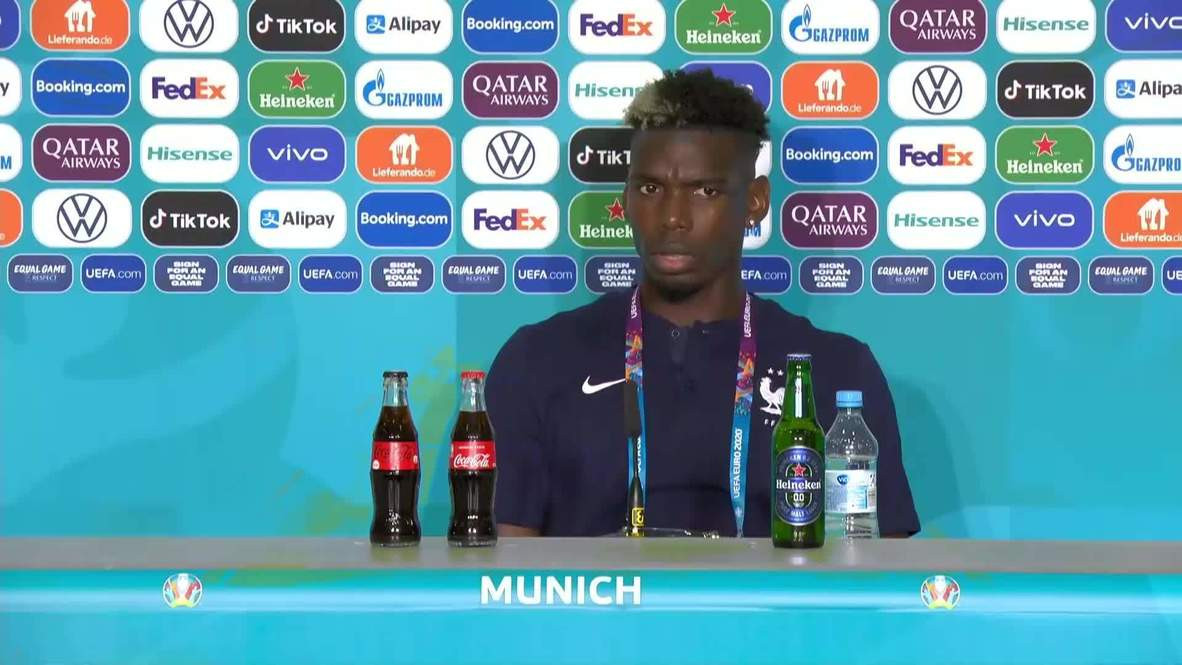 ---
MUNICH:
France midfielder Paul Pogba removed a bottle of Heineken beer that had been placed in front of him at a Euro 2020 news conference on Tuesday, a day after Portugal captain Cristiano Ronaldo moved aside Coca-Cola bottles in a similar set-up.
Pogba, a practising Muslim, removed the bottle when he sat down to speak to the media after he was named 'Man of the Match' in France's 1-0 Group F win over Germany.
Reuters has request comment from Heineken, who are one of the official sponsors of Euro 2020.
On Monday, Cristiano Ronaldo's gesture of removing Euro 2020's sponsored drink Coca-Cola during the press conference on Monday caused a stir which resulted in the video going viral on social media.
The Portugal captain, speaking ahead of his country's group-stage match against Hungary where they won 3-0 with the forward scoring a brace, removed the two Coca-Cola bottles that led to a $4b fall in the share price of the giant company.
The Juventus star then moved forward by holding up a bottle of water, and saying, "Agua! (Water!)".
Coca-Cola's share price drastically reached from $56.10 to $55.22, after Ronaldo's press conference of 30 minutes to promoting drinking water instead of the soft-drink. The market value of the mega-company went from $242bn to $238b – a drop of $4b.
Coca-Cola replied on Tuesday with a statement saying, "everyone is entitled to their drink preferences" with different "tastes and needs".
One of the spokesperson from the Euros also expressed, "Players are offered water, alongside Coca-Cola and Coca-Cola Zero Sugar, on arrival at our press conferences."