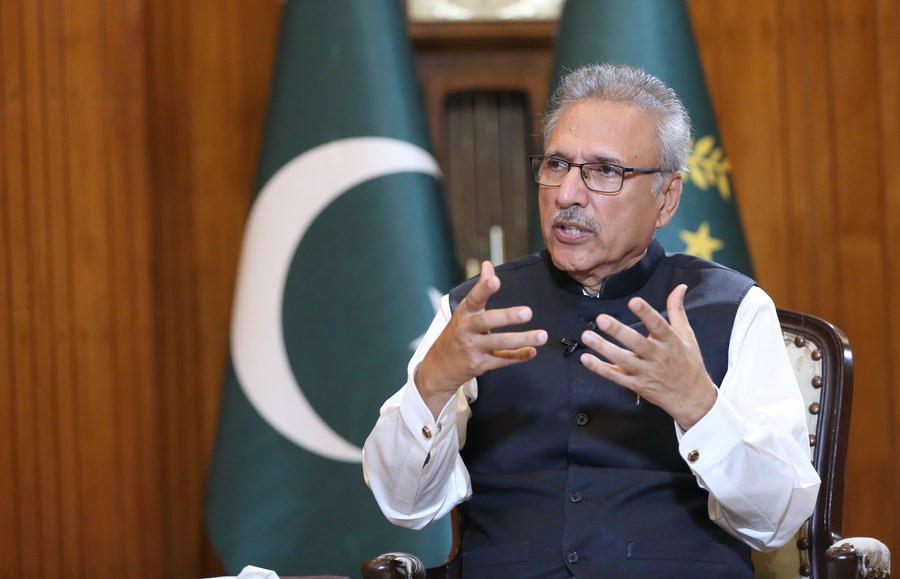 ---
President Dr Arif Alvi has said that Prime Minister Imran Khan's recent statements relating to Kashmir dispute is not a "U-turn" but a change of strategy amid new developments that are taking place in the region.
"[Policy] shift is often regarded as U-turn… people should change their judgment as per changing situations and reasoning," the president remarked in an interview with a private TV channel on Monday.
He was responding to a question related to PM Imran's recent interview wherein he had said that Pakistan was ready to restart talks with arch-rival India if Delhi provides a roadmap towards restoring the previous status of Indian Illegally Occupied Jammu and Kashmir (IIOJK).
"Even if they give us a roadmap that these are the steps that we will take to basically undo what they did, which is illegal, against international law and United Nations resolutions... then that is acceptable," the prime minister had said.
The president said the leaders should not see their decision as carved in stone, adding that any change in the decision does not always amount to compromising on principles. "Even I have changed many decisions during my life," Alvi added.
The president, while citing change in US administration, troops' withdrawal from Afghanistan and formation of new alliances like Quad, said PM Imran was in a better position to understand the changing environment.
Reference against Justice Isa
President Alvi said he had fulfilled his constitutional responsibility by sending a reference against Supreme Court Judge Qazi Faez Isa in the Supreme Judicial Council (SJC).
Responding to a question, the president asserted that reference against the SC judge was not filed under any compulsion and everything was done in accordance with the Constitution.
Specualtions on airbases
About speculations regarding giving airbases to US, the president said the ruling PTI was the first political party in the country which opposed military action in Afghanistan after 9/11 attacks.
He said from the very beginning his party was advocating that there is no military solution to the Afghan conflict. "Giving airbases to any foreign country is a very sensitive matter and I hope that the government will not do so," he remarked.