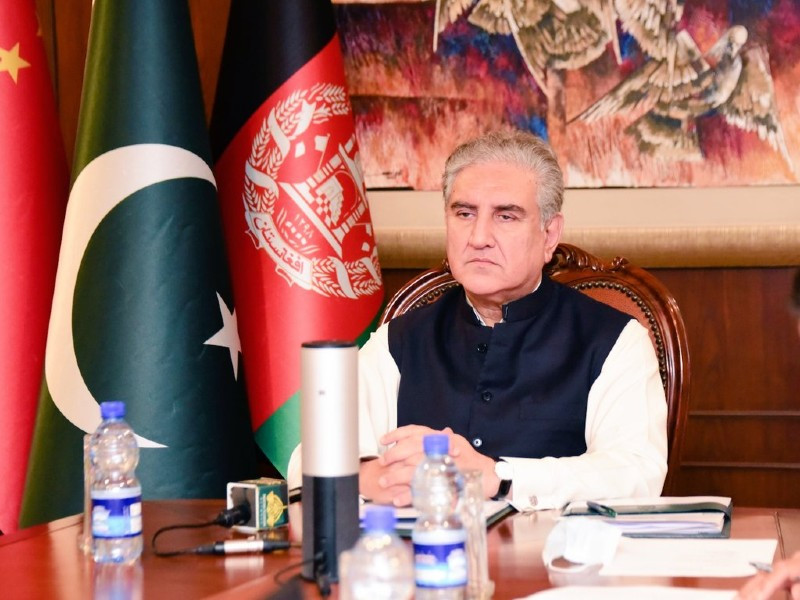 ---
ISLAMABAD:
Pakistan does not want "Talibanisation" in the country, Minister for Foreign Affairs Shah Mahmood Qureshi said on Monday in a policy statement in which he also made it clear that Islamabad will not take any responsibility if ongoing efforts seeking political settlement in Afghanistan fail.
During his 45-minute speech at the Pakistan-Afghanistan track-11 dialogue in Islamabad, the foreign minister repeatedly assured the audience – also including visitors from Afghanistan – that Pakistan has no favourites in the neighbouring country nor does it advocate Taliban rule.
"Pakistan has taken a very clear decision: non-interference in the internal affairs of Afghanistan. We have no favourites," Qureshi added.
"There is a general buzz that we are advocates of the Taliban, I am not. I don't represent them, I represent Pakistan. The Taliban are Afghans," he stated categorically.
Read more: Peace in Afghanistan important for economic progress in Pakistan: FM Qureshi
His comments came at a time when Afghan situation is delicately poised as the US and Nato are withdrawing their troops without any peace deal in sight.
Certain Afghan leaders particularly the Afghan national security adviser and Afghan vice president have recently blamed Pakistan and termed Afghan Taliban as Islamabad's proxy.
The foreign minister, however, cautioned that such statements despite the presence of a mechanism to sort out bilateral issues could only vitiate the atmosphere.
"There are spoilers within Afghanistan and there are spoilers outside Afghanistan. Many have benefited from the war economy and have vested interests. Let's not forget that some countries want Pakistan to remain in a two front situation," he said.
"Blame game is very easy. You can start it and we can respond to your blame game with the same force. Will it help? It will not. I hope there is a realization [of this] on the other side," Qureshi remarked while expressing disappointment over the recent diatribe by the Afghan NSA against Pakistan.
Hamdullah Mohib termed Pakistan as a "brothel house" – an unwarranted statement that compelled Islamabad to sever all links with the Afghan NSA.
Qureshi feared that Afghan President Ashraf Ghani, who is set to travel to Washington later this month along with other Afghan leaders, may use his visit to blame Pakistan.
"If the objective [behind Ghani's visit] is to start a new blame game and hold Pakistan responsible for all the ills, I think it will not help. It's a shared responsibility and no one is going to buy this anymore. We will not take any responsibility. We have been accused enough," Qureshi said.
He said Afghan Taliban control 40% to 45% of Afghan territory even in the presence of the US and Nato forces. "It's a fact. Let's call a spade a spade," he said and then went on to add that today Afghanistan needs a leadership that could help a negotiated settlement.
Without naming President Ghani, the foreign minister said individuals are important but countries are even more important, suggesting that the Afghan leadership needs to think beyond sticking to power.
"There is a window of opportunity for a lasting peace in Afghanistan. But this window will not remain open forever," he warned, adding the Afghan leadership has to seize this opportunity for a negotiated settlement.
"It is up to you to decide whether Afghanistan should be Islamic Republic of Afghanistan or Islamic Emirates of Afghanistan. Whatever the outcome of peace talks Pakistan will accept," he said.
Qureshi said it is illogical to think Pakistan does not want peace in Afghanistan. "Trust us when we say that peaceful and stable Afghanistan is in Pakistan's interest," he said.
Also read: Sullivan confirms US had military talks with Pakistan
"I [Pakistan] benefit from a peaceful, prosperous and democratic Afghanistan. Why would I [Pakistan] allow some forces to undermine peace in Afghanistan? It is not logical," Qureshi said.
He endorsed the view of Afghan ambassador, who spoke earlier, that peace talks and violence could not go hand in hand. Qureshi said Pakistan has been advocating for reduction in violence leading to the comprehensive ceasefire.
"Pakistan will continue to support peace efforts in Afghanistan but it is up to the Afghan leadership to grab this opportunity. Afghanistan could descend into a situation similar to that of the 1990s if the current opportunity is lost," he added.
COMMENTS
Comments are moderated and generally will be posted if they are on-topic and not abusive.
For more information, please see our Comments FAQ