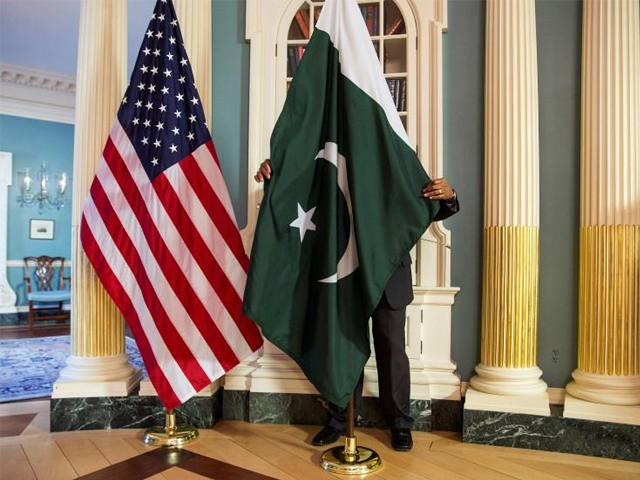 ---
ISLAMABAD:
US National Security Adviser Jake Sullivan on Monday confirmed that the United States had discussions with Pakistan in the military, intelligence and diplomatic channels to make sure that Afghanistan never again becomes a base from which terrorist groups would attack the US – but he did not go into details about it.
Sullivan made the remarks at a press briefing on Monday in response to a question on US's willingness to have a drone base in Pakistan.
As the United States prepares to end its longest foreign war in history, it is exploring options to maintain military and intelligence footprint in the region as part of its contingency plan to deal with the possible resurgence of terrorist groups.
One of the options is to seek bases in the neighbouring countries of Afghanistan where it can ensure surveillance through the skies and even use drones to take out targets.
It is, however, facing a tough situation as central Asian states bordering Afghanistan are reluctant to station American assets in their backyard because of the Russian influence while Pakistan is also not keen to extend such a facility.
Since the reports surfaced in the US media about the possible deal between Pakistan and the US, Islamabad has repeatedly denied such reports. Foreign Minister Shah Mahmood Qureshi on the floor of parliament and media interviews as well as Foreign Office spokesperson in his weekly briefings made abundantly clear that there was no proposal on the table to allow the US to set up bases in Pakistan.
But despite these denials, there is no let-up in reports talking about the possibility of having some kind of arrangement between Pakistan and the US. The New York Times this week quoting unnamed officials claiming that the Biden Administration was talking to Pakistan on the issue.
The newspaper also talked about the previously unannounced visit of the CIA chief to Pakistan and Afghanistan. The paper, nevertheless, said talks appeared to have met an impasse as Pakistan was not inclined to such an idea.
Also read: Pakistan presents blueprint for 'ties' to Biden admin
But on Monday US National Security Adviser Jake Sullivan told reporters that they had been discussing this issue "privately" with Pakistan when asked whether Washington was seeking a drone base in Pakistan.
"We've had constructive discussions in military, intelligence, diplomatic channels with Pakistan about the future of America's capabilities to ensure that Afghanistan never again becomes a base from which al-Qaeda, ISIS or any other terrorist group can attack the United States. But in terms of the specifics, what that would look like will have to remain in those private channels as we work through them."
However, he added that the US had been talking to a number of countries for the purpose.
"What I will say we are talking to a wide range of countries about how we build effective over the horizon capacity both from intelligence and from defence prospective to be able to suppress terrorism threat in Afghanistan," he said.
Sullivan's statement yet again ignited debate in Pakistan as to whether the country would reach any understanding with Washington.
A senior government official while requesting anonymity told The Express Tribune that there was no question of allowing the US to set up any bases in Pakistan.
"We are absolutely clear … 'NO' US bases on our soil," the official added.
When asked whether the US could use any pressure tactics to convince Pakistan, the official explained that Washington had no more enjoyed "the kind of leverage" it had in the past.
He said the US had long suspended the military and security assistance as well as Coalition Support Fund (CSF). In the past, the US did use this as a bargaining chip. "Now, the US is left with fewer options such as keeping Pakistan in the FATF grey list. Rest, it has no more options," the official explained.
The reason Pakistan is opposed to allowing any US military footprint on its soil stemmed from both domestic backlash as well as for strategic reasons.
Also read: 'Internal review' delays Biden-Imran contact
At a recent briefing, Foreign Office spokesperson Zahid Hafeez Chaudhri made it clear that there was no US air or military base in Pakistan; nor was any such proposal envisaged.
"Pakistan and the US have the framework of cooperation in terms of Air Lines of Communication (ALOC) and Ground Lines of Communication (GLOC) in place since 2001. No new agreement has been made in this regard," he clarified.