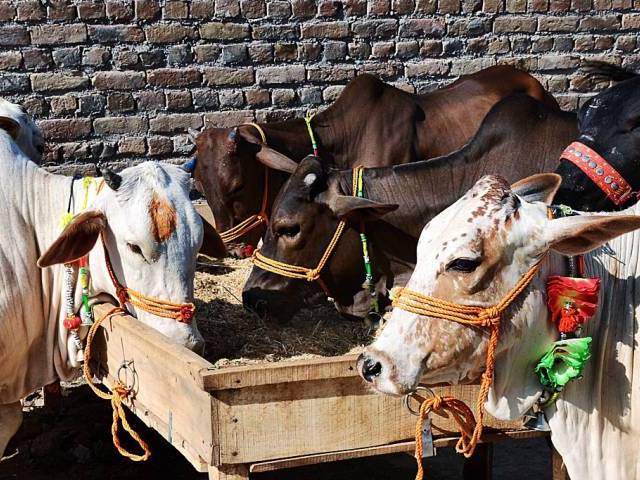 ---
RAWALPINDI:
The sale of sacrificial animals for Eidul-Adha has been banned on streets and neighbourhoods of Rawalpindi city and the cantonment. In lieu 12 small and large cattle markets will be set up in the twin cities to sell sacrificial animals. Close-circuit cameras will also be installed in cattle markets for security.
Cattle markets in Rawalpindi will be set up at Adiala Road, Chakri, Chauhar Chowk, Gulzar Quaid, High Court Aqab Area, Pirudhai, Dhok Hasso, Shah Eye Trust Hospital Aqab, Bagh Sardar Ghazni Road, G.T. Road.
In Islamabad, cattle markets will be set up at I-11, IG Principal Road, and Bara Kahu. The Metropolitan Municipal Corporation, Cantt Board Rawalpindi, Chaklala, and tehsil councils will be the authority to give approval and manage cattle markets. The agencies concerned have invited tenders for cattle markets while the sale and purchase of sacrificial animals have also started on all major roads and neighborhoods across the city.
Traders said that the prices of sacrificial animals are also 30% higher this year. The asking price of a small size goat is Rs80,000. The price of a medium size goat is Rs100,000 while the price of a good size goat is Rs120,000.
The asking price of sheep has also increased. Normal sheep are being sold for between Rs75,000 to Rs90,000 while large size sheep are being sold for Rs100,000 to Rs 120,000.
Published in The Express Tribune, June 13h, 2021.