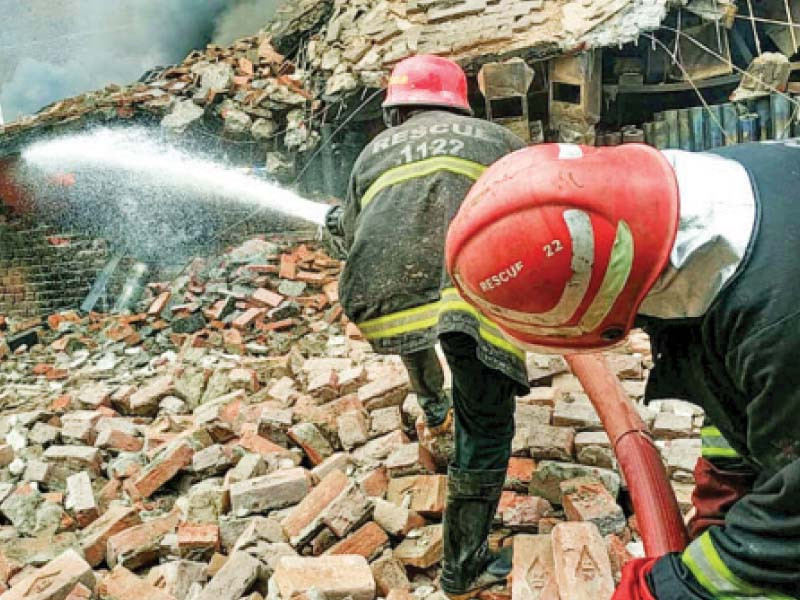 ---
RAWALPINDI:
As many as 2,500 small and big industrial units and other commercial establishments in Rawalpindi have been issued red notices to take fire safety measures within a week, a spokesperson said on Thursday.
The red notices have been issued to factories in Rawat Industrial Estate, Pir Wadhai, Khada Market, Bagh Sardar, Hazara Colony, Shams Colony, Sadiqabad, Kurri Road, Gawalmandi, Ganjmandi, Chakri Road and Adiala Road.
The small and big scale industries, chemical stores, plastic factories, and fuel stations have been directed to ensure the installation of fire safety equipment and emergency escapes in a week. Similarly, the commercial establishments have been directed to replace and remove worn-out hanging wires.
In this regard, Rawalpindi Civil Defence Department (CDD) District Officer (DO) Talib Hussain said that there could be a fire mishap due to a short circuit. He added that the blazing intensity in the summer season is also usually high and it gets difficult to put it out, causing financial losses as well as threatening the lives of the workers. Hussain informed that CDD is going to launch a massive crackdown from June 15 in all tehsils of Rawalpindi. He added that commercial sites operating with dysfunctional or inadequate fire safety equipment would be sealed while they would be penalised Rs0.1 million.
Published in The Express Tribune, June 11h, 2021.